Weird water creatures and mad explorers combine in a dazzlingly original children's fantasy adventure story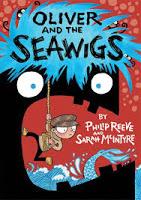 I so enjoyed this madcap romp through the oceans, and so will the target audience of 7+. Really, I'm not convinced there's an upper age limit on this kind of fun.
The book represents a brilliant combination of text and image, being beautifully illustrated throughout. Philip Reeve's delightfully zany creations are brought to life through Sarah McIntyre's energetic and witty drawings.
The characters are deliciously quirky, with the mythical and magical elements showing an inventiveness worthy of Eva Ibbotson. There is an anarchic feel to this book, which is perhaps some of the reason it put me in mind of her work. The plot is equally strange and wonderful, featuring the most bizarre competition I've ever had the pleasure of reading about, islands that wander around the seas, mermaids, sea monkeys and a dastardly villain.
I've really emphasised the humor here, because it is one of the defining features of the book. Let me just say, though, that I tend not to enjoy the slightly-too-silly-for-me humor sometimes found in 'boys' books'. This is not in that category. Brilliantly bonkers yes, but not pants-and-bums silly.
In short, if you enjoy slightly mad humour, magic and/or adventure, this is a book you will love.
Book Description
Along with his friends, a grumpy old albatross, a short-sighted mermaid, and a friendly island called Cliff, Oliver sets out to rescue his missing parents. On their perilous journey the friends meet evil islands, a boy called Stacey (not a girl's name) and more sea monkeys than you can wave some seaweed at.
****************Publishing 5 September 2013 by Oxford University PressFor more info visit the publisher's web pageMy grateful thanks to the publisher for providing a review copy