I have heard many people many saying they have a signature perfume and prefer to wear only that every single day. Ofcourse, with that you know who walked into the room even if you are not watching. But personally I feel I get bored with one single perfume. I love variety in perfumes. Although most of my favorite perfume would fall under the same category. For Ex: I love perfumes that have floral , aqua and citrus nodes, very sweet perfume are a totally no no. You will always find Jasmine, Aqua , Citrus and Lavender in most of my perfumes. Too much sugar, honey are no for me.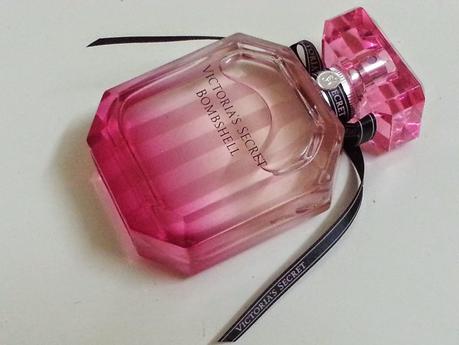 I had picked Victoria's Secret Perfume - Bombshell body mist since a year. I accidentally happened to pick this at a beauty store. I loved t so much that I had to get my hands on the perfume for sure. I had been searching for it everywhere, in the stores and online. But it wasn't available in India at all. I wanted to get it from abroad. I mentioned about this to my hubby a couple of times. On Valentines Day this year, he requests his friend to get it from Dubai. And here is what my Valentine Gift was. Adorable isn't it? 
Read about the content , details and more pictures HERE
Buy other Victoria's Secret products on Jabong Flipkart Nykaa Purplle
To read about the perfume. How it smells? How long does it last? What is the sillage of the perfume? 
Read on....
Victoria's Secret Perfume - Bombshell EDP is a super sexy , attention grabing and very unique perfume. It is sweet, floral, citrus and aqua. Its the fragrance of a smart , confident woman with an attitude.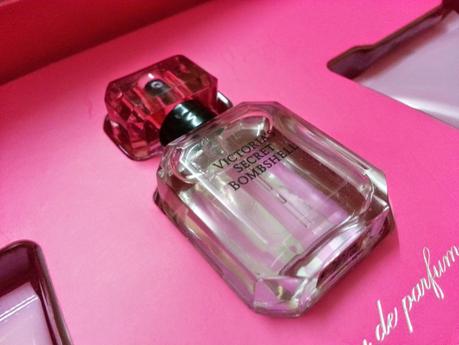 Official mix of fragrance (
 Victoria's Secret Perfume - Bombshell )
 is:
Top notes - Tangerine, Pineapple, Passionfruit, Strawberry, Grapefruit
Middle notes - Jasmine, Red Berries, Lilly, Peony, Vanilla Orchid
Base notes - Musk, Woody, Oakmoss
What I smell ( In order of strongest note)
Passionfruit, Grapefruit, Jasmine, Peony, Musk, Woody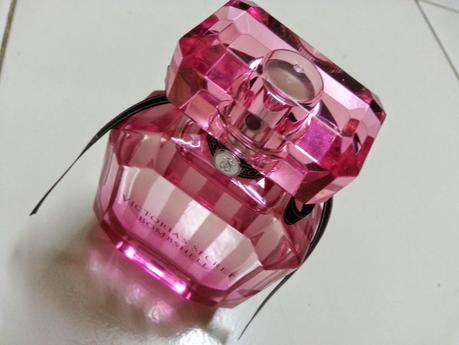 My take on the perfume: 
This perfume was love at first sniff. This perfume oozes attitude and confidence. It is femme and soft, yet very strong and makes an impact. It is a great day or night wear perfume. The body mist works great as a substitute for a deodorant. 
The longevity of this perfume is decent and lasts a good 7-8 hours on me. 
The sillage is moderate and within arm length. I like it that way. Anything more stronger than that is way too strong for me. 
Overall its a young, fresh and full of energy perfume. You must give it a try if you like the nodes I mentioned about. To read more about nodes and difference between EDT and EDP read HERE
This is Victoria's Secret Bombshell EDP - 50ml
Price: This gift set is available for Dirham 325 (Approx INR 5525) in Dubai . As a Valentines day offer it was available for Dirham 300 ( Approx INR 5100)
A Victoria's Secret Bombshell EDP - 100ml cost Dirham 325. For the same price I got so much more. I think its a steal.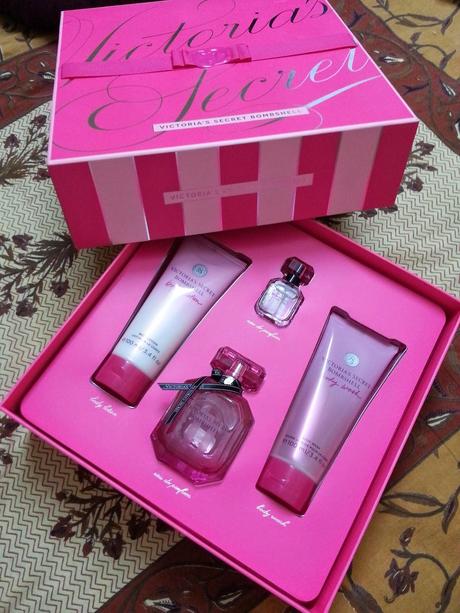 Victoria's Secret Bombshell - GIFT SET. Read about the GIFT SET HERE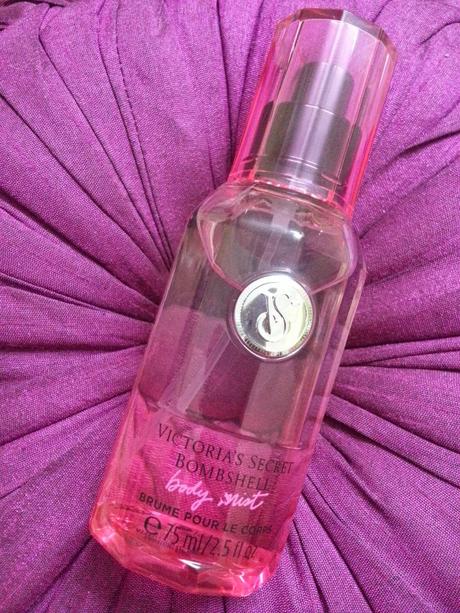 Victoria's Secret Bombshell Body Mist
Check my other perfume reviews here 
Gucci by Gucci and Georgio Armani - Acqua di Gioia