Time for one more City Update. This time its not exactly city but a place near the city. Its a Weekend Getaway.  Matheran is a Hill Station in Raigad District near Karjat in Maharashtra. Its is about 2.5 to 3 hours driver from Mumbai city. It is the smallest hill station in India. Its at a height of 2600+ feet above sea level. Know a unique feature about this place? Its 100% fossil fuel free. That means no cars, trucks, bikes or anything that emits pollution. Imagine how awesome this place is.  I along with hubby and some friends visited this wonderful abode last weekend and here is what we did and some tips for you to plan your trip to Matheran. 

Read on to know more about this place. 
How to get there: There are more than 1 ways to get to Matheran. 
Drive to Matheran via Karjat.Take the Mum-Pune Express away.  Take a left at the Shedug - Khopol exit and get on the old highway.Then take a left at Karjat phata about 50 mtrs before a huge Shiva Statue and head straight till you find a gate on your left that take you to the winding climbs towards Dasturi naka. 

Get to Neral Railway Station and cab it from there

Get to Neral Railway Station and take a mini train. This option is fun and most loved by children and adults too. It takes a good 1-1.5 hours to get to Matheran Railways Station by this mini train. 
We took the first option and drove all the way up.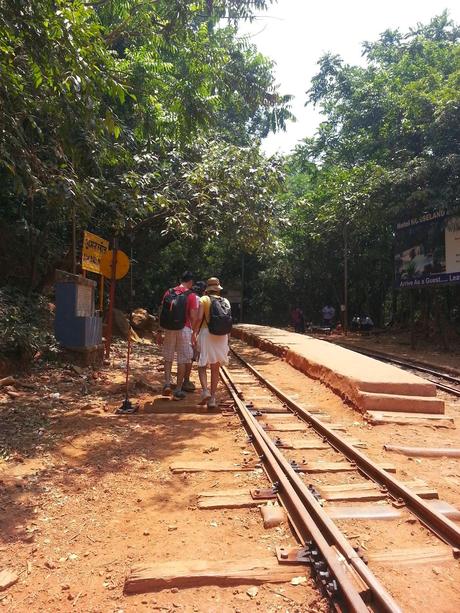 Aman Lodge Station
Remember I had mentioned no Cars or Bikes allowed in Matheran? 
Where to park your car: If you drive to this place. The highest point you can take is Dasturi naka. No vehicles are allowed beyond this point. It is not a big parking ground but there is ample place provided for parking the 1000s of cars that folk this place everyday, only doubling up during the weekends and holidays. Do not expect levelled ground for easy parking. One will have to park in the woods driving through narrow winding roads with parked cars on one side and deeps trenches on the other. Parking is relatively safe. Its maintained by the tourism officials. But its advisable to be doubly sure to park the vehicles well and not to leave anything valuable in the car. They charge about INR 50 per day for parking.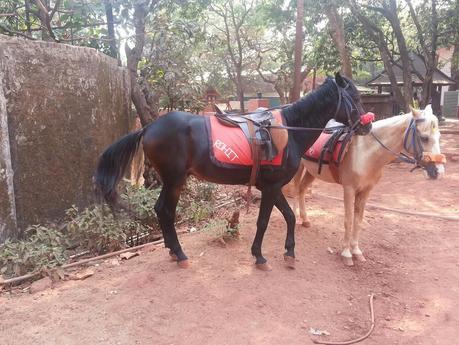 Your only vehicle in Matheran
Entry to Matheran: 
Firstly at Dasturi naka one has to buy Entry Tickets worth INR 50 per adult. I guess this goes towards maintenance of the place. From here its a good one hour walk to Matheran Hill Station. If you take the mini train you pass this place and reach the Matheran railway station directly. But if you are driving you have to park at Dasturi naka and then head towards the main hill station At Dasturi naka there is a railway station called AmanLodge where you can take a mini train shuttle to Matheran station. Its a 15 mins joy ride and costs INR40 per person. Alternatively you can hire a horse or hand drawn cart to get to Matheran. Cost of the horse and cart service varies from days and depends on negotiation. 
We took the shuttle and chugged away.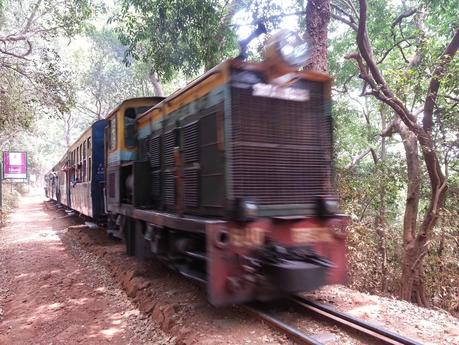 Mini Train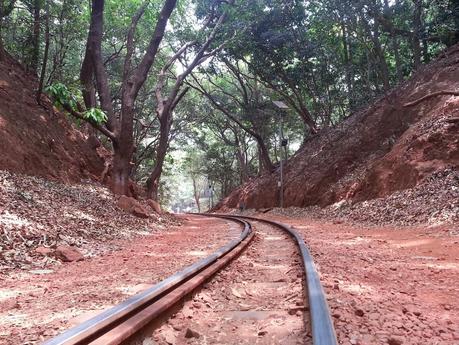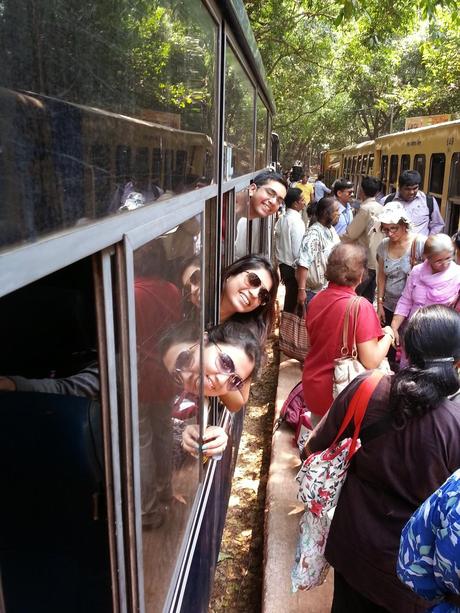 We chugging away
At Matheran:
From the Matheran railway station you can walk to the resorts/ hotel/ motel/ lodge you have booked . Or alternatively hire a horse or hand drawn cart once again :)
We walked to our resort. 
Where to stay:
Matheran has no dearth of accommodation options at all. One can find all ranges from luxury resorts to basic lodges. We explored many different options for a comfortable stay. There are many portals that allow booking of accommodations online. I suggest you check reviews and take your pick. 
You can pick your options from these sites
Go Ibibo
Booking.com
MakeMyTrip
We stayed in Westend Resort. It's a nice cosy and rustic looking place. It has about 20-25 rooms. Well maintained. Has a small swimming pool, a kids play area, badminton and table tennis area, a discotheque and some more recreation facilities. The food is average. They serve veg and non veg , breakfast, lunch and dinner buffet. Check in 11am and Check out is 10am. We go a full board pack from them for one night which includes one lunch, one dinner and one breakfast. It cost us about INR4400 per couple.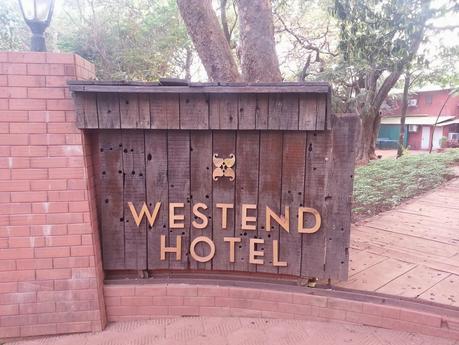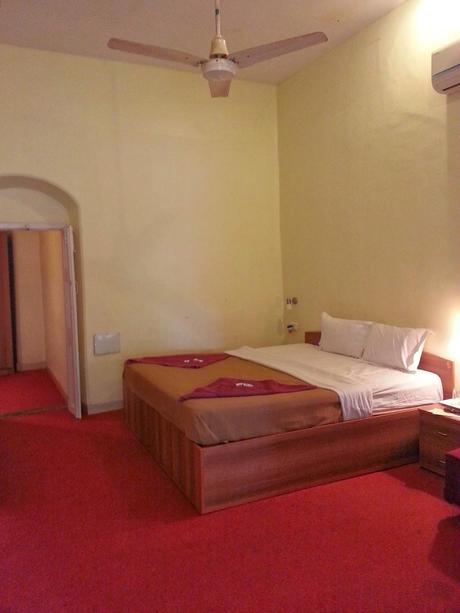 Our Room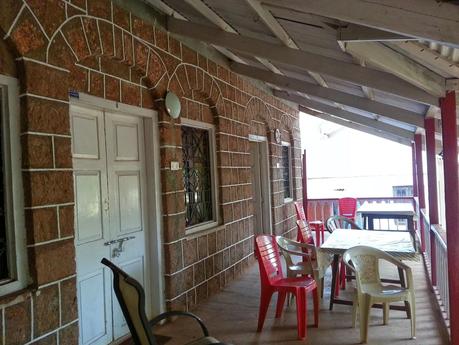 Verandah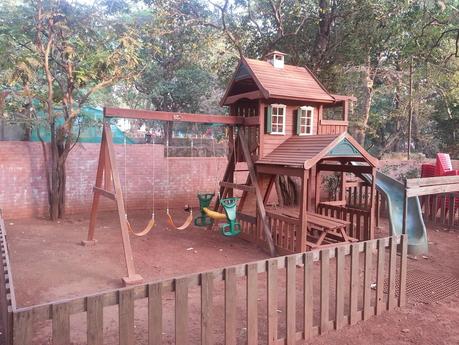 Kids play area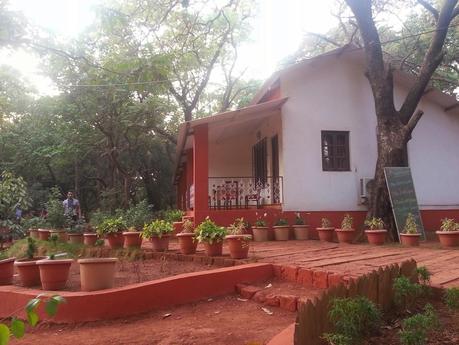 Rooms as Westend Hotel
In Matheran you are never too far from a monkey in sight. They are all over and could be a menace some time. So watch for monkey snatching away any food stuff from our hands. Also keep your doors locked at all the time. You don't want uninvited guests playing havoc with your stuff. 
Places to Visit:
There are a good 25-30 different points to visit in the small little hill station. We planned a relaxed weekend so didn't walk must around. Just visited Charlotte Lake/Sunset Point and Echo Point.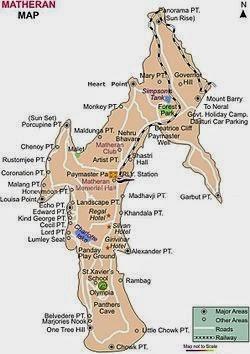 Matheran Map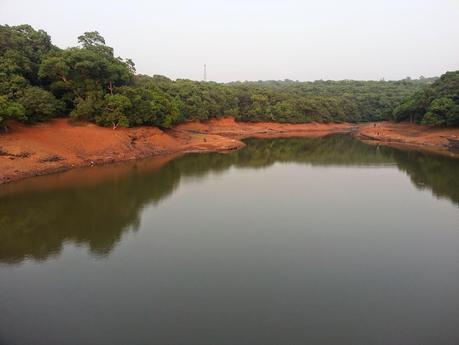 Charlotte Lake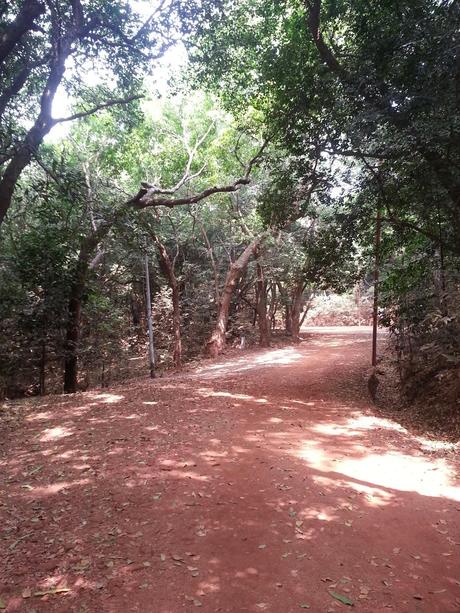 Quaint lush walk ways
Hope you found this information useful. Do write in case you would need more info. 
** Map from Google Images