I was one of the lucky ones that got to try this out before it hit shelves after receiving it in my recent Influenster LoveVoxBox! For starters, Venus razors are the
only
razors I've used since high school and let's just say my 10 year high school reunion is coming up this year ;)
When I saw that Olay and Venus had gotten together to create an ultra-moisturizing razor I was definitely exited. I've tried most of the soap/moisturizing razor combos that have come out over the years, including the Venus Breeze and ProSkin razors. I definitely had my hopes high that I would love this razor and I was not disappointed!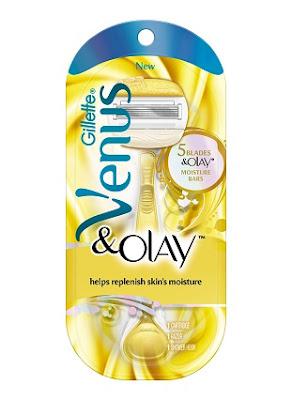 As you know I usually try to never use promotional pictures, but my camera has been having some issues lately and none of my pictures were clear enough for me to feel comfortable posting them here. At least this way you can see what the razor looks like ;)
The Venus & Olay razor has 5 blades as well as 2 Olay moisture bars positioned above and below the blades. I always, always use either a shower gel or women's shave cream (Whish is absolutely one of my favorites by far!). Since I wanted to see what this razor could really do, I didn't use anything else with it. While I wouldn't say the bars get bubbly, there is definitely a thick, slick lather produced when they're introduced to water. The glide is amazing!
The one thing I wasn't overly excited about, but which has nothing to do with the razor itself, is that it comes with a shower hook instead of a pod-type hanger, so there's no place to store extra cartridges in the shower. Not a huge, huge deal, but a little confusing give that everything else about this razor is amazing. I'd also like to note that unlike other Venus razors, which often come with 1 extra cartridge, this only came with 1. I'm not sure if non-promotional ones will be the same, but I believe they will be.
I actually had Hubs give this a try because he has INSANELY sensitive skin on his face and we realized years ago that the Venus razor gives him a better shave than anything else he's tried (and he's tried them all) and he loved it, too! Does anyone else's husband prefer their razors over their own? I buy him his own when I refill my cartridges obviously. He goes through razors like nuts with his crazy-growing hair ;)
Price
I believe this is priced at the typical
Venus razor price of between $8-$9. You can view it on Gilette Venus's website HERE.
Where to Buy
This can be purchased anywhere that sells Venus razors such as most drugstores, megastores (Target, Walmart, etc.). 
Final Thoughts
This razor is definitely a step above the typical razor. Between it's Venus 5-blade design and the smooth Olay bars, I'd say it's a great choice for anyone that wants a razor that's a tad less "hassle". Definitely worth a try! I know we'll be buying them ;)
What do you think? Would you try the Venus & Olay razor?