Over the years many of us have bought numerous hair care products, many of them possibly from VO5. So when I saw their Hot Oil product I thought I'd give it a try. You can pick up their Hot Oil set of four from supermarkets and stores such as Superdrug and Boots they charge around £4.50 for the set. To begin with I had high expectations for the product due to the company and the previous items that were bought. But I was slightly disappointed, The instructions said to place one of the small bottles into the bath or a cup of hot water for it to heat up. My impression was that the liquid would get warm/hot but it never really changed from what I could see, and this was the same for all four attempts.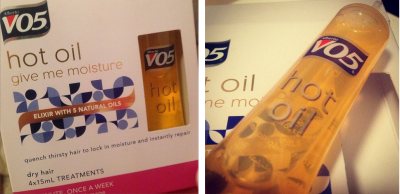 photorights to charlottewhispers.blogspot.co.uk
After 'heating it up' the rest of the instructions were followed and the liquid was poured onto my hair and quickly massaged in. I have reasonably thick long hair so I felt like more liquid would have been better, but I left it in for a minute as instructed before washing it out. I was really impressed with how well the oil washed out, as I've tried numerous hair care products which have taken up to 15 minutes to wash out. But the oil ran out of my hair really easily and when I applied shampoo after it felt easier to massage in without getting all knotted.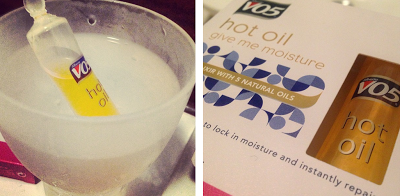 After I washed and dried my hair I noticed that my hair didn't really feel any softer, but I knew it wouldn't have any immediate effect so I used the other 3 sachets of the oil over the next two weeks and to be honest there wasn't much of a difference. My hair didn't feel softer but it did feel like it had made my ends stronger as they were very damaged before. It also helped washing my hair and protected it when I straightened it after.
I'm not sure I would go as far as to recommend this product as for me the results were not that obvious. But every person's hair is difficult so this product may be brilliant for others, but I have fairly crazy hair as it's frizzy and hard to control at times. But in terms of protecting my hair against heat I think it worked rather well. Overall I don't think it's something I will be buying soon, as there are probably other products out there that will work better with my hair type.
Product: VO5 Hot Oil Hair Product
Rating: 2/5 stars