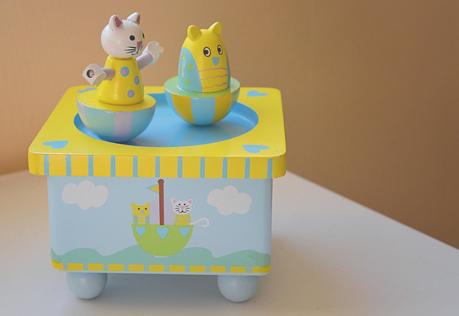 We were recently sent this gorgeous homemade music box to review from The Wooden Playden, a lovely little family run business in the UK that provides a wide range of quality handmade children's toys and accessories fore babies and toddlers! The ranges include puzzles, jigsaws, bookends, music boxes, clocks and pocket money toys, as well as peg puzzles, height charts, rattles and baby toys! If you are looking for a special gift or just a quality toy that will last a long time, the you are guaranteed to find an item to suit you! 
So, seeing as we are turning the spare room into Abbie's new big girl bedroom, we figured the music box would be a perfect ornament, the theme we are aiming for is owls, Abbie loves them and there's actually tons of bits out there at the moment so it seemed perfect! 
Once it arrived I was excited to see what the music would be for it, it was probably the cutest music box is ever seen, with a little cat figure and an owl to match (the own and the pussycat inspired!) I loved the colours too, bright and perfect for your little girlie or boy!

Abbie has become obsessed with it, she's always insisting I turn it on for her and she giggles away at the little figures on the top, especially when they start spinning, she thinks it's hilarious! 

The crafting of the box is perfect, everything is carved to perfection and you can really see just how much love has gone into making it, it is painted beautifully and just fits the bill for the perfect music box!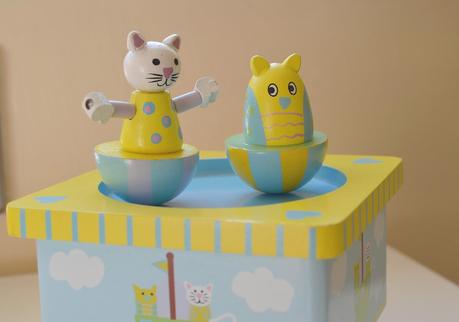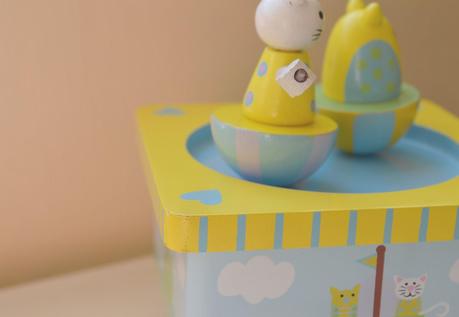 If you're looking for gorgeous handmade wooden toys for your little one, The Wooden Playden has everything you need! :)