Food can bring such comfort. It can make you forget for a moment the bad or busy day you're having. Especially when the food is from a wife to husband (or the other way around), it can deliver more affection and such authentic feeling.
In India, there's a service of delivering lunchboxes from the desired place (home/restaurant) to desks of employees. Ila (Nimrat Kaur) makes food for her husband whole-heartedly. She asks if her cooking is already perfect to her more-experienced-cook upstairs neighbor. One afternoon when the lunchbox is returned, she surprised to see the inside of the lunchbox is empty. She's happy because his husband loves her food so much he ate it all. But then she brought it up to him at night, only to discover her husband was eating another lunchbox and didn't realize it. Ila didn't tell him that he wasn't eating another lunchbox and the topic just passes from their conversation, a little hint that her husband doesn't give it a lot of thought.
Saajan (Irrfan Khan), a widowed tax employee who have been working in the company over 30 years, is the one who received Ila's lunchbox. He surprised that the food is more delicious than ever. He thanked the restaurant he ordered the food from, because he thinks that's where the food is from.
The wrong train could get you to the right station.
Instead of confronting the courier of this mistake, Ila starts adding a letter inside the lunchbox. Saajan received the lunchbox again, reading the note and answers Ila's letter. They continue the letters and it blossomed their relationship. It takes a peak when Ila discovers a woman's perfume in her husband's shirt.
At the same time, Saajan is about to retired after working for the government for 30 years. Saajan is a serious and closeted guy, often feels lonely at night, especially after his wife passed away. His replacement, Shaikh (Nawazuddin Siddiqui) eagerly wants to learn his job. Saajan thinks Shaikh's excitement and friendly attitude bugs him. But then Shaikh's high spirit managed to bring Saajan's attention and they become close.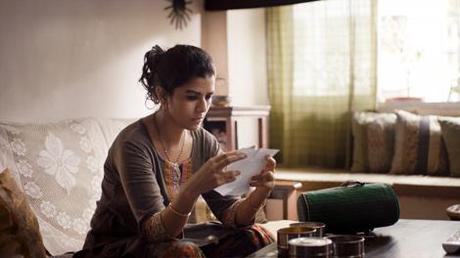 The Lunchbox
isn't another typical Bollywood movie with the choreographed dances and fairy-tale like reality. It the actual reality : After wedding, the expectation is to have a harmonious marriage life. But husband and wife's relationship can turn to cold. Sometimes our spouse wasted our devotion to him/her.
Also, the monotonous life of a 9-to-5 employee in a developed country; getting up early, take a ride in a stuffed train then work with numbers and go home. Honestly, the working situation in this movie are similar with my own city. Traffic jams are everywhere, buses and trains are stuffed with working people even in the morning. Even after 30 years of working in government, your life seems to be static. Harsh, but it is the reality. It is explained how stuffed the city is in one of Saajan's quote, "When my wife died, she got a horizontal burial cot… I tried to buy a burial cot for myself the other day, and what they offered me was a vertical one… I've spent my whole life standing in trains and buses… now I'll even have to stand when I'm dead!"
The bitterness of this reality is what makes Ila and Saajan's relationship a sweet one. It involved a delicious homemade cooking, which makes it instantly intimate. Also, it used a classic method of communication in such modern life; a letter.
Being Saajan, makes Irrfan Khan looks aged than before. Reminded me of Jack Nicholson in About Schmidt. I admire Irrfan Khan for showing such depth and range. Nimrat Kaur also could deliver Ila's passionate and loving character as a woman, which is wasted by her own husband. Combined, they seem to be perfect like yin and yang.
The Lunchbox is one drama movie with romance in disguise. Showing that our hard work and investment over something sometimes feels like a waste, but there's a gift for every person who deserves it. I am loving Shaikh's quote, "The wrong train could get you to the right station." Said when Shaikh and Saajan is on the train home. The mistake happened in life can be a structurized path to some place we need to be. The importance is to never lose hope. Being the first long feature film by Ritesh Batra, The Lunchbox is one of the rare Indian movies I adore.
Final Score :