Spellbinding in execution and epic in scope: a beautiful book to savour.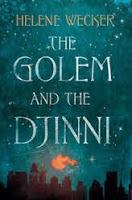 This novel combines two different folklore traditions into a narrative about immigration and finding one's place. Through exploring the very different experiences of a masterless golem and a djinni bound in human form, this lyrical and intelligent novel questions what it means to be human. Set in New York in 1899, Helene Wecker uses the two folkloric creatures to probe questions of fitting in and relating to others.
I thoroughly enjoyed this and recommend it to readers of fantasy but also those who enjoy contemporary literary novels. Comparisons to Susanna Clarke's fabulous Jonathan Strange and Mr Norrell are justified (although this is both shorter in length and perhaps smaller in scope).
The writing is superb. The story is narrated in the third person, which allows us access to various characters' perspectives. Although both title characters do have negative qualities (from a human perspective), and both make mistakes, they both have our sympathies for at least part of the narrative, thanks to this close access to them. The narrative also sweeps through time and space, encompassing various characters' past experiences, enabling us to see where people have come from.
The plot itself centres on the Golem and Djinni's attempts to live without drawing undue attention to themselves - or going mad from the pressures upon them. Imagine if you didn't need to sleep? How would you fill the nighttimes? Details such as this are what drive the plot to its eventual crisis point. There are parts where the pace is a little slow, but the gorgeous writing and skillful character development make up for this. Overall, this is definitely a book to lose yourself in.
From the publishers' blurb:
If you were bewitched by The Night Circus… If you were mesmerised by A Discovery of Witches… If you were enthralled by Jonathan Strange & Mr Norrell… You will be enchanted by THE GOLEM & THE DJINNI
Chava is a golem, a creature made of clay, brought to life by a disgraced rabbi who dabbles in dark Kabbalistic magic. When her master, the husband who commissioned her, dies at sea on the voyage from Poland, she is unmoored and adrift as the ship arrives in New York in 1899.
Ahmad is a djinni, a being of fire, born in the ancient Syrian desert. Trapped in an old copper flask by a Bedouin wizard centuries ago, he is released accidentally by a tinsmith in a Lower Manhattan shop. Though he is no longer imprisoned, Ahmad is not entirely free – an unbreakable band of iron binds him to the physical world.
The Golem & The Djinni is their magical, unforgettable story; unlikely friends whose tenuous attachment challenges their opposing natures – until the night a terrifying incident drives them back into their separate worlds. But a powerful threat will soon bring Chava and Ahmad together again, challenging their existence and forcing them to make a fateful choice.
**************The Golem and the Djinni will be published by Blue Door on 15 AugustMy grateful thanks to the publisher for providing a review copy via lovereading.co.uk