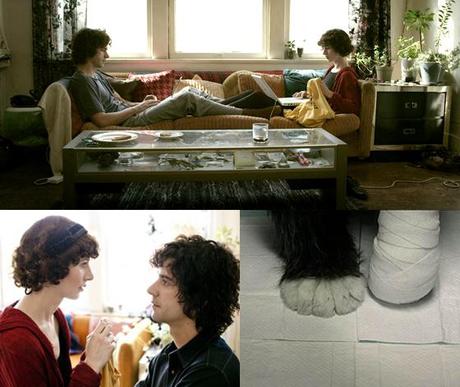 "Outside there was no time, no hours. Just alive, or not alive, or… bird. Now there was this new thing. Waiting, waiting for them to come get me. Waiting for my real life to begin."
Something new sometimes can look so big and scary. Especially when it includes adding more responsibility. A couple decides to adopt an injured cat, but they must wait a month before they can take it home. The couple decide with the time they have left, they can do things they could do before get tied with the new responsibility. But the changes end up testing them and their relationship.
I've never seen a movie by Miranda July before, but The Future surely have its own uniqueness. I love seeing a couple so look alike and so in sync they look like they are brothers and sisters. Both also look like two same person with different sex. There are something a bit odd with their togetherness, like they are far too long living just the two of them. Which is make sense when they are adding a new, they thought of it as a very big commitment. As if they were expecting a baby (which is far more complex to my knowledge).
Paw Paw, the name of the injured cat, actually have its own narration. I think of it as a mix between different, cute and scary. At first I thought that the movie is a horror or thriller drama with the creepy cat voice, but actually the voice just to tell the existence and the hopefulness of the injured cat being taken care of. This is an approach I've never seen before in any movie. There's definitely sadness that was brought of by Paw Paw, that sometimes humans ignore or forget that animals do have a bit of feelings.
The twist however was unexpected as well, as the story goes. The built tension gets higher and it lead one of the character to be out of focus, and in need of a way out. I seriously don't know how the thought of adopting an injured cat can lead to a big worry to some person. But maybe this could happen to someone who got used to living alone and have a look that nurturing a new member can be such a big responsibility.
I personally think it was interesting how Sophie (Miranda July) decides to videotape her dance to place in online, as the effect of her co-worker success dance video. And how she keeps procrastinating doing 30 dance in 30 days, because she was overwhelmed with her own fears. She decides to unplug the internet connection for her to stop seeing other videos, because it would bring her down. It's good though to keep focus, but many times we worry because we let it effect us. Sophie's way of thinking showed a lot of what many people do, effected by anxiety and afraid of taking a huge step.
This movie was more of a serious deal rather than a comedy movie to me. The Future might not be perfect and have its own twists that surprised me, but the point taken was, worrying gets you nowhere. Many times, worry just mess your head and makes you out of focus, while the reality it isn't that scary. But sometimes it helps you prepared, just best not too much to take it.
Movie Score :