Fabulous steampunk mystery adventure for 9+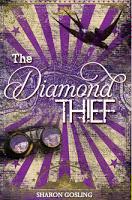 Amazing contraptions, an intriguing mystery, Victorian London, the circus, a hint of romance between a detective and a cat burglar - this book combines so many elements brilliantly. The result is a riproaring adventure that will appeal to a wide range of readers in (and above) the target age range. I've already had to bat my 14 yr old away so that I could read it in time for this review!
Remy is a circus performer. She is a skilled acrobat, working on the trapeze and also as a jewel thief. Fiercely independent, she seems to be an orphan, but does have close relationships with some of the other circus workers. I love her pride in her work and her stubbornness, as well as her admirable loyalty to her beloved Claudette and Amelie. She is clearly beholden to the circus owner, Gustave, who sends her on a mission to steal a precious diamond on display in the Tower of London - and here the adventure begins.
Thaddeus is a young detective. Clearly from a lower class background, he is not always taken seriously as a detective due to this and his age. Nonetheless, he is a very serious young man with a strong sense of morality and a desire to do the right thing. As the blurb tells us, he finds himself implicated in the theft of the diamond and sets out to find Remy and clear his name. The speed with which his colleagues turn against him and believe him to have broken the law is shocking and ensures that our sympathies lie with him.
Sharon Gosling skilfully plays with our sympathies, making sure that we cannot possibly 'take sides' between Remy and Thaddeus. We see the best aspects of both of them, and (at least for the first half of the book) understand each far better than the other can. Characterisation is definitely a strength of this book. There isn't space here to delineate each of the fascinating supporting roles here, but trust me, you'll also love the Professor, and young J and the noble Desai.
Another strength is the setting. We get to see a range of Victorian London which is relatively unusual - often books are confined to a particular social milieu - as we follow Remy to the showing of the diamonds in the Tower, as well as getting views of London's poorer aspects. The circus and the creepy below-London network are also sharply drawn and younger readers will have no problem keeping up with the scene changes due to the detailed (but not excessive) description.
And finally, the plot is strong too - pacey but not confusing for the target audience; twisty enough to reward reading; and satisfying in the end.
Overall, I'd absolutely recommend this. With its dual protagonists, its blend of mystery, adventure and character development, it's definitely a book that will be enjoyed by readers of either gender and fans of many genres.
From the back cover:
And there she was. A girl who seemed to fly without wings, as perfectly as a bird. Even the thought of  it made his heart freeze. The memory of her, plummeting to the ground...
No-one performs on the circus trapeze like 16-year-old Remy Brunel. But Remy also leads another life, prowling through the backstreets of Victorian London as a jewel thief. Forced by the evil circus owner Gustave to attempt the theft of one of the world s most valuable diamonds, she uncovers a world of treachery and fiendish plots.
Meanwhile, young detective Thaddeus Rec is determined to find the jewel and clear his name. Will Thaddeus manage to rescue the jewel? Or is it really Remy that he needs to save?
********************************
Published 14 February 2013 by Curious Fox
Find out more at the publisher's website
My grateful thanks to the publisher and @GeorgiaLawePR for providing me with a review copy.