If you're going to cry about getting dumped, do it with a great soundtrack.
On October 8th, Australian artist Ta-Ku's eagerly awaited Songs to Break Up To was released. I'd have written a review much sooner, but I've been busy using the EP for it's actual purpose: to nurture my poor, freshly-wounded heart. And that is exactly why I am the perfect person the sing the praises of this EP to you. 
Having successfully built up a reasonable buzz across social media platforms prior to release, Songs To Break Up To has been well received by fans, with the EP coming in at number 1 album in the iTunes electronic album charts just three days after release. Perth native Ta-Ku, real name Reggie Matthews, has been making music seriously 2008, the same year in which he was accepted to attend the Barcelona session of the Red Bull Music Academy, an exclusive annual 2 week series of lectures and collaboration opportunities for a limited number of promising musicians worldwide.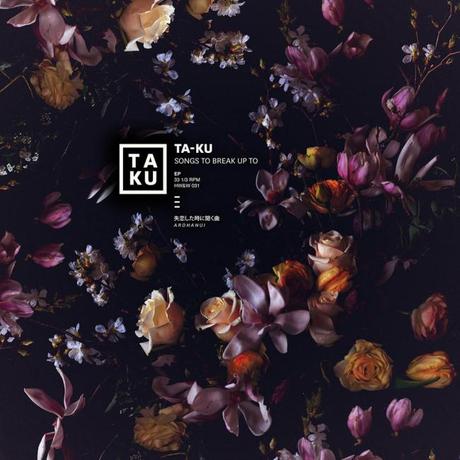 Compared with his earlier work, Songs to Break Up To is relatively distinctive, in part due to Matthews' chameleon-like nature as an artist. Having transitioned seamlessly between genres, from hip hop to electronic to r'n'b to trap, it's impossible to predict Ta-Ku's next move. 50 Days for Dilla Vol 1. & 2 were, of course, much more strictly hip-hop focused, while Do What You Love was more varied, combining soulful r'n'b vibes with stereotypically electronic elements. Songs to Break Up To is a notably more mature sound: concentrating much more heavily on instrumental tracks featuring only minimal vocal samples, the emotions invested in this EP do all the talking. Songs to Break Up To is presented as the progressing emotional journey one makes when experiencing a break up, with each song representing a different feeling or stage of the break-up. In terms of the specific tracks, not a single one lets the EP down, but 4 in particular have really resonated with me.
The second track on Songs to Break Up To, 'Heartbreak (Sinking)' does in fact sound exactly how I imagine a heart breaking would sound – you know, if it weren't made up of all that muscle and blood. The static background fuzz is reminiscent of the sound of record players and the slow, steady crunching noise (of metal? glass? the human heart?) oozes painful emotions.
Next up is 'I Miss You', arguably the most vocal-heavy track on the album. Layered piano chords complement synth-strings and echoing female vocals, and even the pitched-down vocals, typically predictable and cliché, are a nice touch here. 
The fourth track, 'Love Lost', sounded immediately familiar to me, and I soon figured out why. The wonderful Daughter has been sampled on vocals, and the soft aching to her voice is perfectly suited to this musical heartbreak.
Fast-forward a few songs to 'We Were In Love', and you will find another stretch of road on this emotional journey, centred around a steady, tense clapping rhythm and paired with haunting breathing and yet more anguished, sliced up female vocals.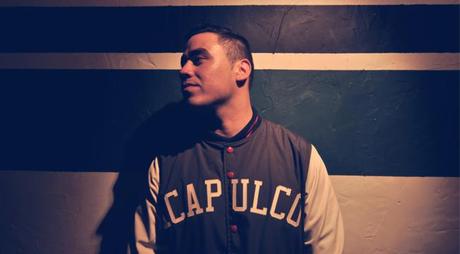 In a previous interview with Pilerats, Ta-Ku explained "I want every track of mine to be an embodiment of who I am as a person", and not simply the regurgitation of his influences and other music that's being created at the moment. He truly succeeds at this aim throughout Songs to Break Up To, as I couldn't possibly compare this to another album. I consider this EP is not simply a great piece of music, but something bigger than that. As I mentioned at the beginning of this piece, a lot of well-deserved hype was built up around this release, and that contributed in a big way to the positive reception it has been met with. Across Facebook and Twitter, Ta-Ku has interacted closely with fans and fellow creatives alike, posting regular humble thanks to listeners for supporting his music, and aiding the production of a series of interpretations of the EP, including the tear-off ad campaign style promotional material pictured below, which fans were encouraged to distribute in their cities across the world.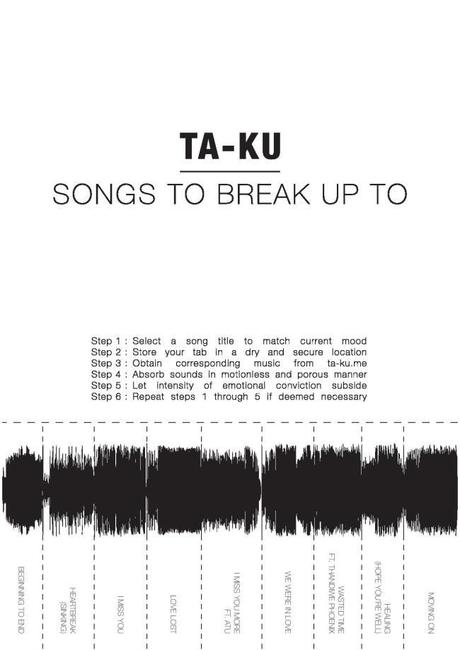 Upon the release, Matthews has also posted a candid interview-style track-by-track explanation/interpretation of the entire EP on Soundcloud, allowing the listener and even greater degree of interaction and bonding with the music and the musician himself. This exemplifies beautifully the varying ways in which the internet can be utilised for artist-audience interactivity and promotional purposes. This all culminates in a really solid, passion-filled product that the listener cares about just as much as Ta-Ku himself does. I think many blasé musicians today could take a leaf out of Ta-Ku's book, and trade in their indifferent too-cool apathy towards their music for some passion-fuelled devotion.
Stream & buy Songs to Break Up To here.