'Life is tough, life ain't easy' says Ghostpoet, but at least we've got his lovely music to get us through.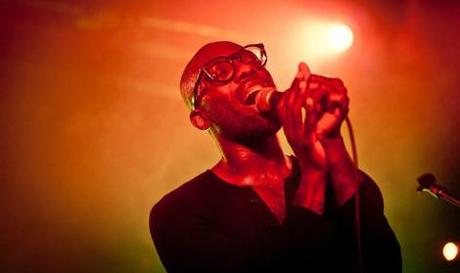 If you haven't already gathered – we really like Ghostpoet at Raccoon towers. We're actually running out of good things to say, someday we'll just put out a mind-map of positive adjectives we use to describe his sulky tones.
Obaro Ejimiwe has returned to the studio after some extensive touring following 2013's Some Say I So I Say Light. The new track titled 'Off Peak Dreams' was played exclusively on Zane Lowe's Radio 1 show last night and plans for a new record Shedding Skin were revealed.
There's always that irrational fear with new material from an artist you like – that somehow it won't quite live up to expectations. But fear not, 'Off Peak Dreams' shows that 'poet has not missed a step.
There's still those moody undertones that make his sound so appealing – but also a huge sense of positive energy and spark about this first single. Those big bleak piano chords are pushed on by a bright drum track and Ghostpoet's own lyrics which seem to show the spoken-word grumbler is a good place right now.
If this is the theme running through the whole of Shedding Skin, then we could be looking at Ghostpoet's most complete album yet. Buzzing.
Listen to the track here:
Shedding Skin is set for release on 2nd March.