Great follow-up to Poltergeeks: more sass, more action, more magic!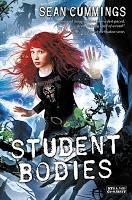 I greatly enjoyed Poltergeeks, the first in this series and would absolutely recommend this title if you did too. If you haven't read it yet, stop here - this review has spoilers for that title (but not for Student Bodies).
The characters are again the key strength here for me: Sean Cummings really does know how to create realistic characters who interact and react in ways that we can easily relate to, even while they're involved in a full-on urban fantasy plots involving witches, evil spells and coven politics (yes, that is what I meant). It's clear from the tone of the writing and the emotional realism here that Sean is expert in understanding people, and that really is the heart of this successful series, I think. Yes, there's a cracking plot with plenty of action and some fabulously original ideas (look out for the ultra-creepy soul worms!), but none of that would work as well without the undercurrent of realism lent by the strongly-constructed characters.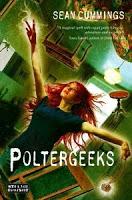 As a development from Poltergeeks, this novel is brilliant. There is a complete story here, whilst the world-building and overall story arc is developed, so it doesn't have that flat feel that some 'second/middle of a series' books can. Julie's knowledge and understanding of her own powers and the magical world generally expand here, taking us along with her. Her relationship with Marcus has evolved since the start of the first book and this is a major subplot now, as her mother worries about his involvement in Julie's life as a witch. It's clear that there is more to learn about witchcraft generally, and about Julie's family history and her powers specifically (but not to the point where you feel like stuff is being artificially kept back for the next book), so I'm looking forward to the next installment.
Overall, I'd absolutely recommend this as a strong urban fantasy which is a perfect example of how to continue a series.
Do come back on Friday for a guest post from Seah Cummings as part of his blog tour (for more on the tour, click the link top left).
Summary from Goodreads:
Whoever said being a teenage witch would be easy? For fifteen-year-old Julie Richardson and the city's resident protector from supernatural evil, the Left Hand Path doesn't give a damn if you've found true love for the first time in your life. There's someone lurking the halls of Crescent Ridge High School with enough malice to unleash an epidemic of Soul Worms – supernatural larvae that feed on the very fabric of a victim's humanity.
After witnessing the death of one of the most popular kids at school, Julie and über genius boyfriend Marcus are in a race against time to find out who is behind the attacks. All the evidence points to a horrifying plot at the City Weir during the Winter Solstice; the place where icy waters of the Bow River and a thunderous spillway will mean the deaths of more than a hundred of Julie's classmates.
If she has any hope of saving their lives, she'll need a little help from a coven of white witches and an Aboriginal mage whose snarky attitude is matched only by her magical prowess.
***************
Publishing in September from Strange ChemistryFor more info, visit the author's websiteMy grateful thanks to the publisher for providing me with a review copy via NetGalley