I'm not exactly an over-achiever as a kid. I have one or two subjects that I liked, but I always hated some that require memorizing. It's safe to say that I had my lazy days. But still, getting bad grades was something I fear. All kid should and would after for the top 10 rank in the class. It's the necessity that grew tired of me. Every Sunday morning I always watched Doraemon, a 2D Japanese TV Cartoon  series and find comfort, that there's someone who is worst than my average grades. That is Nobita.
Nobita is a 4th grader who lives his average elementary kid. He is slow, whiny, wimp and always have zero in his school tests. His 'friends', Giant and Suneo often bullies him. He has a crush to the kind and beautiful Shizuka, who is a perfect A kid. Nobita doesn't have a life that every kid would envy for. But he has something that everyone wishes they have; Doraemon, a robotic cat from the future who helps him with his futuristic tools and gadgets.
Doraemon initially assigned to help Nobita from a bad future because of Nobita's grand grand son, Suby. Given the time they have spent together, Doraemon and Nobita become best friends. Nobita becomes dependent on him. Nobita would come home crying and whine about something bad, and Doraemon would solve it by any tool he pull from his pocket. But when Nobita is overwhelmed with happiness, it is the barometer for Doraemon to go back to the future. The question is, will Nobita be ready for it?
You always depend on me! Do things on your own for once!
When I heard that Doraemon will be adapted into the movie last year and that it would be about his goodbye, the child in me surely don't want to miss it. Every kid who grew up in the '90s in Asia and especially Indonesia, have Doraemon in their hearts. Doraemon doesn't feel like a robot. He's a member of family, someone who takes care of Nobita, no matter how annoying and whiny he is.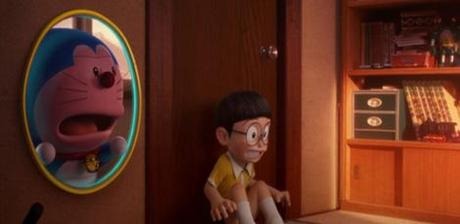 It's not just about him. It's about all the tools and gadgets come out from his little belly pocket. Every episode he would take something from the pocket. There's a regular tools like a traveling door (allows you to go anywhere through the door) and Hopter (small helicopter windmill, flies you in the sky to everywhere you want). But every tools he gives Nobita is inventive, which makes us always amazed with Fujiko F. Fujio (author of Dorameon). Not every gadget helps, when it is used for wrong causes or used under Doraemon's supervision. So in every episode, there's a chaos caused by misuse. Nobita often did something wrong, and Doraemon would fix it. Flavored with silly things which makes us laugh, Doraemon is a series with rich elements. First published in magazine then turn to manga series, it was aired here from the '80s until now. So you can imagine how much gadgets and stories Doraemon have.
The pessimism in me said that it could turn out to be a corny 3D adapted movie. Adapting 2D to 3D and from TV series to a movie are the challenges this movie have to deal. But, it has successfully passed with flying colors. 3D technology accentuate Doraemon's sophisticated materials and futuristic world. But it doesn't leave the feeling and emotional side, that is with the great adapted story, characteristics, even the voices of each character. It helps that they colorize the animation with soft color and a little glow effect.
To summon from all episodes, this movie emphasizes the two big relationship in Nobita's life; Doraemon and Shizuka. Doraemon is the pal and kind of like his security. While Shizuka is the love of his life. Nobita's challenges is his fear and worries, also laziness. But it doesn't stop from making people love him. Another challenge in his life is Suneo and Giant 'Big G' who always mocks and put him down. This chapter, especially knowing that Doraemon won't always be there for him, is his life transition to be more mature.
What we could learn from Nobita is to always count on yourselves. Some people in our lives are just passengers we met on the crossroads. When they already 'gave' their purpose in our lives, they will go on and so will us. Some goodbyes we don't want to do, but we have to because we can only move forward. All left is memories and in the end it will just be a chapter from our life. New people will come in our lives for other purposes.
One scene I remember from the movie is when Nobita went to the future and met the adult him. Nobita said to his future self that he travels with Doraemon and asks if he'd like to meet him. But future Nobita refuses.
Since I already read the goodbye episode from the comic, so the surprise wasn't so shocking. But I remembered I wet my face reading that episode. But I still got all teary watching the scene in the movie. Maybe I'm a bit biased reviewing this movie, but it's nice to watch something so personal adapted and actually refreshed to 3D. A nice adaptation after all tired Hollywood 3D remakes. I'm really grateful watching this movie, since it made me nostalgic to my childhood years. I'm going to miss Doraemon as well.
Score :