Another amazingly catchy name from Shimano, the AM41 MTB shoe doesn't inspire much emotional response from the name itself, unlike the Five Ten Freerider or the Gaerne Kobra, but the product itself speaks volumes. For a start, it comes from a brand who has been around since somebody decided that riding a bike off road was super-fun and this product reflects all those years of experience.
The Shimano AM41 MTB Shoe
I wouldn't say that this is a good looking shoe, because it's not. I wouldn't say that you could casually wear it around the place, because you'd get off looks. But what I would say, is that if you want a shoe that performs brilliantly on the trails then the Shimano AM41 is pretty bloody good! Here's how it stacked up in our review: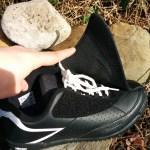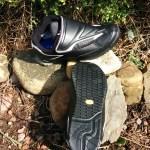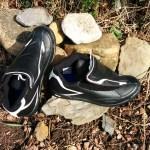 Possibly the Best Trailshoe for Flats?
There are two things that really make this shoe stand out above other non-SPD types and that's 1) the Velco-secured flap that covers the laces and 2) the outstanding grip on the sole. Why are these so good? Well, by covering the laces with a synthetic leather upper Shimano make it possible for you to go out after it has been raining and come home with try toes. This is great living in Wales, as it is always raining and puddles and mud are commonplace.
The grip really has to be felt to be believed. Thanks to a clever tread pattern on the bottom and the 'Vibram' rubber, these practically stick to your pedals leaving you with a very secure base for when you're flying down a trail or simply spinning away. I was using slightly worn down pins on the Superstar Nano Techs and I've felt absolutely zero slippage when using these shoes!
Whille the AM41s aren't completely waterproof they do a great job of keeping your feet dry from the splashes of hammering through puddles. The medium height of the ankle offers a bit of support, which is great for when you've spent all day in the saddle, and it also stops dirts and much from finding its way into your shoe. The toe box is fairly comfortable, but it is also rigid enough to withstand a couple of bashes from rocks and stumps without damage.
Overall 
If you're looking for a MTB shoe designed for flat pedals and mucky British weather then the Shimano AM41 could be just what you're after. It normally retails around the £80 mark but you can grab them from the Chain Reaction Cycles Sale for just £56 right now! In terms of grip, protection and comfort, this shoe is simply amazing – for all day climbing or blasting down the trails you really can't go wrong with this fantastic shoe from Shimano.
Note: Shimano also make this in a clipless version called the AM45, which shares the same basic properties but with a different sole.