If you've ever been looking for bike goggles to stop dirt getting in your eyes then you may have come across Melon Optics. Melon has a pretty decent range of affordable goggles, the Parker MTB being aimed at mountain bikers, obviously.
But custom goggles, designed for mountain bikes with a price tag that's under £40 can't be right, can it? I've been testing some out for the last nine months (yes, this is really overdue!). Here's what I thought:
Melon Optics Parker MTB Review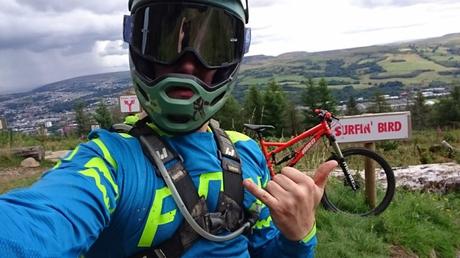 Firstly, the price is amazing. The only thing that really comes close is the budget 100% range which I do not recommend – I tried some a few months back and they fogged up like you were in a sauna and scratched like a nymph having the time of her life. The quality you get with the Melon Optics is brilliant, clear lens, great fitted frame, sturdy strap with easy adjustability – plus you get to pick your own colours AND there's a lifetime warranty, which is pretty dope.
Secondly, the fit is epic. I've run these goggles with my POC Trabec Race, my Bell Super 2R and an old 661 Downhill helmet and there have been zero issues with compatibility despite having such a wide lens and being pretty thick thanks to the 360 venting system which works an absolute treat.
Swapping out lenses is really easy – I managed to do it the first time without any issues, which is impressive when I consider my previous attempts with other goggles. There's no faff, just flex it – pop it out and replace with a new lens. Simple.
Overall
For looks, price, visibility and lack of fogging the Melop Optics Parker MTB goggles are pretty much perfect. The only thing I've found is that the mirrored lenses do lose their mirror look after a few dirty rides, meaning that you do have to replace the lenses kinda frequently which is normal. Would I have liked a more robust lens that would last for a month or two? Yes, but the replacements are cheap and easy enough to fit that I'm being really picky here just to find any sort of negative.