The Nukeproof Scout 275 is a hardtail bike that's been designed to be long, low and aggressive – ideal for smashing down gnarly decents and flying through lovely flowy singletrack. The full bike can be found online for as little as £750 which I think we'd all agree is an amazing price for a complete, trail ready bike… although the components included are quite basic, it is a great platform to upgrade on.
I picked up the 2016 frame from Chain Reaction in a sale for around £200 and the 2017 model is currently sitting at £350 – which has exactly the same geometry but comes in different colours. Quite frankly, it's priced very competitively compared to other aggressive hardtails out there so you can't knock it there.
Nukeproof Scout 275 Frame Review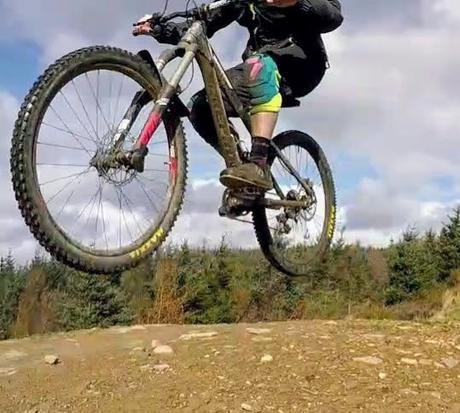 This is an absolute weapon of a frame. Compared to my seriously aggressive Bird Aeris, the Nukeproof Scout feels normal – which is saying a lot when you're used to low and slack. It's a really fun bike to ride – very flickable and responsive. Designed around a 140mm fork, it really comes into its own when pointed downhill giving you all the whoops you deserve.
I've kitted out by build with Manitou Mattoc forks, SRAM Guide brakes, Superstar wheels, Maxxis tyres, Zee gearig and Nukeproof bars this has really been designed to be a very aggressive hardtail. As a result of this, I've found that the Scout doens't excell on XC rides, rather it's better suited to trail centres or days spent messing around on the mountain. In addition to this, I'm having to run a longer stem and a layback seatpost as I've found that the reach isn't quite as long as I'm used to.
Nothing like ripping through puddles! #mtb #mtblove #mountainbikes @nukeproofbikes #nukeproof #maxxis #bikes #wheeebikes #shredding #stoked #enduro #endurobike #traillife

A post shared by Grinding Gears (@grindinggearsuk) on Mar 5, 2017 at 7:18am PST
The frame itself is super stiff, which makes it feel absolutely bombproof and makes it extremely responsive, the downside of this is that you feel every little bump on the trail. This isn't anything too terrible but it does make long, rocky decents an absolute killer – luckily wide rims, tubeless tyres and a good fork takes a lot of the jitters out of it.
Overall Opinion of the Scout 275
If you want a cheap, aggressive hardtail with modern geometry then it's hard to beat the Nukeproof Scout 275. There are plenty more refined options out there for more money, although it's hard to beat the playfulness of this bike. Flicking it down trails, flying around singletrack and tearing up bike parks is the name of the game with the Scout – if you want a ride that'll leave a smile on your face the this is it, but don't expect comfortable long XC rides with this bike.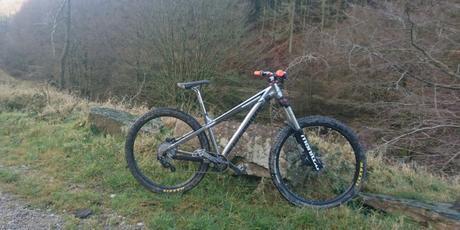 Overall it's fun and playful, but it's definitely not the all-rounder that Nukeproof's marketing target the bike at.