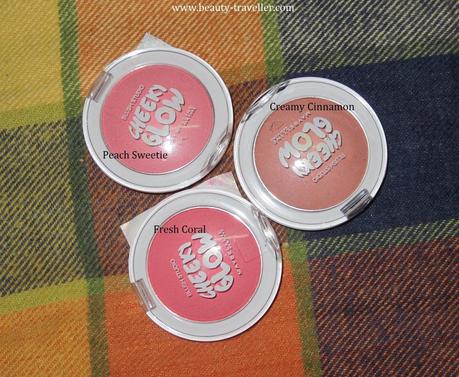 Now I know that I am terribly late in reviewing these blushes but so what!! I found them a bit late myself. These blushes are really sweet and as the name says 'Cheeky'. I am going to do a very quick review though.
I have always loved Maybelline in the drugstore brands. They are very innovative and their thought process is wide enough to come out with certain products that the whole world loves. It could be those 24 Hr color tattoo eyeshadows or the Hyperglossy liner or the 14 Hr Lipsticks....there's something quirky about Maybelline. Albeit their famous mascaras, I am more interested in these products.
Lets have a look....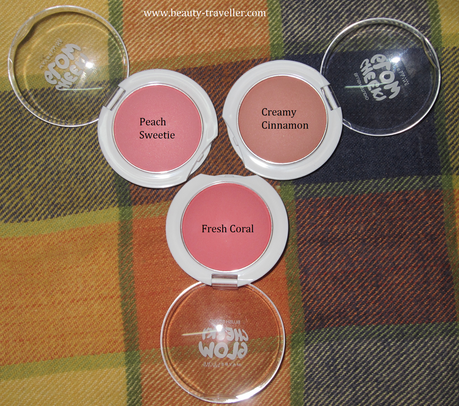 CHEEKY GLOW BLUSH
For Cheeks that glow with a natural finish
Ultra light weight, silky, blendable powders

Meet the new blush on the block. So Silky and smooth, it blends flawlessly for the most natural finish.

Soft texture for a natural hue.

Easily blends with your skin color

Comes with 3 fresh colors for your pretty skin: Creamy Cinnamon, Fresh Coral and Peach Sweetie.

MRP: Rs. 250
PACKAGING
This has the simplest packaging of all. A clear lid does give an idea of the color inside. The plastic packaging is a bit tacky and may tatter easily but this is the least you can expect at the price point of the blush.
FORMULAFor a drugstore blush at that price, they have a good amount of 7 g. and the formula is silky and amazing. The brush may end up picking up a lot of product but yet the blush is natural and there is very less chance to go overboard or wrong. The texture is silky smooth and the finish is almost professional. 2 of the blushes viz. Creamy Cinnamon and Peach Sweetie contain micronized silver pearls that impart a beautiful sheen and glow on the face. The blush without the pearl feels extremely satiny and does have the glow factor. The blushes do have a lot of fillers and binding agents which make them appear ultra-wearable but I do not guarantee the wearing time and longevity as most of the drugstore blushes tend to fade really fast. This is good for a small event or occasion and for someone who may not want to expect fabulous results. The compact is cute enough to carry for touch ups but may tend to break easily. The blushes are moderately pigmented and very buildable without going patchy and do not look inexpensive.COLOR
Creamy Cinnamon - This is a wearable medium toned beige brown with hints of silvery pearl to impart a healthy sheen and glow. The pearl translates as a very soft sheen on the face and does not look glittery and sparkly. This is a beautiful nude shade and can be used on the times where you may not want a lot of color on the cheeks since you have it on lips and eyes. Great as a transition blush.
Fresh Coral - Is a nice pinkish coral satin blush. This is almost matte and gives a stain like effect on the skin. I love it and love to pair it with a bronzer (especially a matte one) and highlight the key areas of the face.
Peach Sweetie - This is a salmon pink blush and really looks beautiful. Its imparts a healthy pinkish sheen on the cheeks and is quite pigmented although it looks a bit pale in the pan.
I used a fluffy Shiseido blush brush and Real Techniques Multi Task Brush to apply them and they were simply perfect. No comparisons with high end blushes though. There is a 'luxury' to those, that misses here (but I have no qualms).
Have you tried these blushes? Which ones are your favorites? Do let me know in the comments.
Till then, 
Ciao




Please do not copy any pictures or content of Beauty Traveller without prior permission. Thanks for reading my blog. I don't give 100% on the authenticity of the content here and it is subject to change without prior notice. Please read the disclaimer for any questions.

Thanks a lot for reading my blog. Do subscribe, follow and support. Thanks.