The mountain bike world seems to be going back to the good old days of riding without bags, which is great news until you get a puncture 30 miles out and haven't got a tube, tyre lever or a pump handy for a quick trailside repair.  Of course, you can always duct tape or zip tie a tube to your bike, but the aesthetic isn't great and getting a zip tie off an inner tube is nothing short of a pain in the ass!
Enter Louri Bike Straps.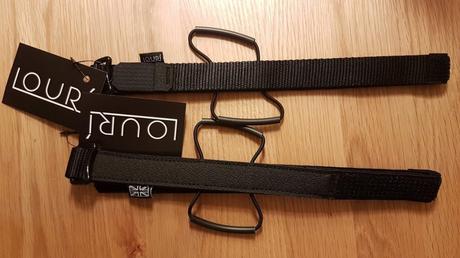 The well-designed Louri Bike Straps are basically identical to the Backcountry Research Straps which are effectively gold dust in the UK. Why does this matter? Because the design is brilliant. You aren't just relying on a single velcro strap to hold your belongings in place (which seem to be being sold everywhere at the moment) this is a well thought out strap with two elastic cords holding the tube steady while the strap is padded to prevent frame scratch and movement. What's more, they're made in the UK and are roughly the same price, if not cheaper, – retailing at £14.99.
I recently bought two – one for my Genesis Tarn and the other for my Bird Aeris Mk1. I've now been riding with them for over a month, they've seen a hell of a lot of mud, snow, rain and even the occasional dry and sunny day.
Louri Bike Strap Review
Installation is a little bit fiddly with the tube, there's a definite knack to it which you pick up after a few attempts but even my clumsy attempt to ram a plus tyre, tire lever and CO2 pump in worked alright so that's not too much of an issue!
I found that on my Bird Aeris there isn't a whole lot of room inside the frame for a tube and it only just about fits – they've changed the new Aeris so this isn't a problem but if your frame doesn't have room for a bottle you may be struggling to fit it in. But then there's also the saddle strap! The Tarn, on the other hand, has ample room and I could probably fit four straps in there if I really wanted to!
The quality is great and after being used and abused throughout the Great British Winter there are no signs of them breaking or going wrong. I did buy these straps before they brought out the coloured ones and I'd probably choose black again so that they don't look so obviously dirty when they are.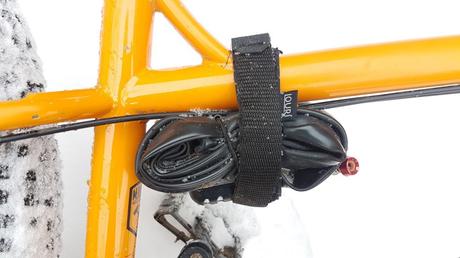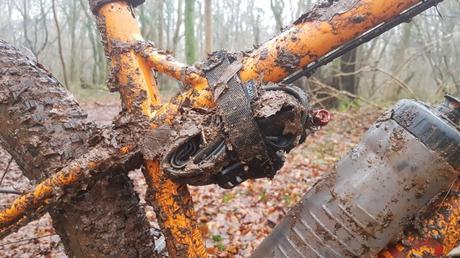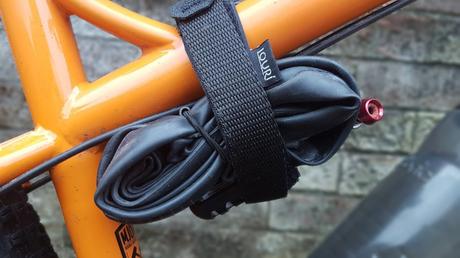 I was slightly concerned about the buckle, as this is made of plastic and in my experience plastic and mountain bikes can cause issues. So far it's been very durable, withstanding a few crashes and being moved around from bike to bike.
PRO TIP: Put a multitool in a little plastic bag and fold it in with your inner tube, it works an absolute treat and stops it from rusting.
Overall Opinion
Do you need this product? Probably not. Are there better ways to spend £15 on a bike? Only if you don't already have the DMR Deathgrips.
If you want to ride without a pack then this is an essential bit of kit, it's affordable and can absolutely save your bacon. It doesn't move around even when things get really mucky and wild and you can stick pretty much anything you want to your bike with these – I've even tried to use two of them to strap a shovel to my bike!
Would I recommend this product? Yes, and happily! It's a great product from a really decent company and it's made in the UK. What's not to love?