King Krule first launched himself into notoriety with his 2011 self-titled EP, which received widespread and critical acclaim.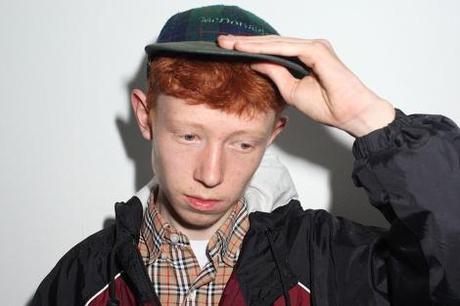 Since then many critics have dubbed the British 18-year-old Archy Marshall as the potential voice of a generation, and there has been substantial anticipation for his first studio album '6 Feet Beneath The Moon', which is currently available for streaming via www.kingkrule.co.uk, and will be released on 24th August via XL Recordings and True Panther Sounds.
The opening track 'Easy Easy', begins with the familiar style and angst of the young British troubadour, a sound arguably run into the ground by the likes of Jamie T and Pete Doherty. Whilst running the risk of emulating the already clichéd, King Krule picks up the torch and runs triumphantly, as his unadulterated, riling and melancholy vocals cry out: 'Your dead-end job, has been eating away your life […] And you spend your evenings, searching for another life'.  Underneath the lone vocals and guitar, wide, spacious and thick strings swell with promise. This use of space is one of the most impressive features of the record; the consistent utilisation of reverb within each track allows a seamless flow and provides a solid, dark and broody character. Not only does this production hold the album together, but it's what arguably lifts '6 Feet Beneath The Moon' away from just another poetic indie attempt towards the supramundane.
Whilst the shiny and sedated sounds on this album provide an intense emotional lift, King Krule lyrically drags us back down to the concrete and gray 21st Century Britain of the young working class male. Some of the more reflective moments King Krule provides are frighteningly existential and prolific for the mind of an 18-year-old. 'Cementality' marks the halfway point in the album. It stirs up images of a monochrome, dystopian dream. Dank, analogous keys drive the ballad, whilst clean shimmering guitar lines slowly trickle and echo upwards. Krule enigmatically suggests suicide: 'My concrete bed beckons', 'I hit zero, as guiltless loveless sins flow', 'the pavement was soothing, my body wasn't moving'. Between 'Cementality' and the next track, 'Lizard State' is where King Krule demonstrates his subtly dynamic style of songcraft. The song deals with the comparatively down-to-earth theme of rejection and romantic revenge, and is certainly one of the more instrumentally dense tracks on the album. The structure and style is somewhat reminiscent of material from Arctic Monkey's sophomore LP, 'Favourite Worst Nightmare'; slightly lacking in originality, but the shuffle-y soul backing and brass section that punctuates and punches the jam provide adequate sonic satisfaction all the same.
'6 Feet Beneath The Moon' spans the length of 14 songs, the shortest being just under 2 minutes. One of the downfalls of this album is that it feels too long. Although the record is consistent in style, it sometimes lacks in substance. Some of the material seems to blur together into what could simply be perceived as filler to tiresome ears. King Krule quite typically pulls together influences from the rhythm and grooves of Reggae and Soul throughout his debut album. But less conventionally, he manages to take the low-end trip-hop drum slams of Portishead, the transformative ambience and spaciousness of Burial, and masterfully crafts them into a record that resonates with the darkness, desperation and villainy of London like no other record since Burial's 'Untrue'. What more, is that Archy seems to leave himself room for development, and being a relative babe of only 18-years-old, It'll be interesting to see what he does with this growing room. Nevertheless, '6 Feet Beneath The Moon' is a formidable and triumphant debut effort; a true product of its environment.
 7.9 / 10
Favourite Track – Cementality
Runner-Up – Ocean Bed
Least Favourite – Will I Come