To continue with my series of reviews for the Kindle Touch (read about Day 1, Day 2 and Day 3), today, I'm going to share how I find the Kindle 2011 and the Kindle Touch similar and at the same time different.
KINDLE VS. KINDLE TOUCH
Since I mentioned that I was able to use a Kindle even before I got a KT, I think it's only fair to give a brief comparison of the two.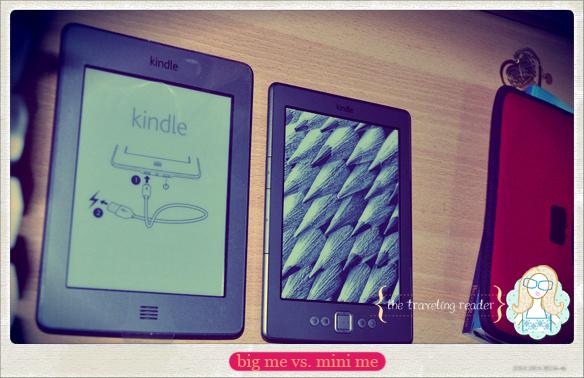 SIMILARITIES
CRITERIA KINDLE KINDLE TOUCH
1 E – Ink Technology E – Ink Pearl
2 Aesthetics Gray body with matte finish;
Screen is depressed about 1/8 of an inch from the surface with a dark-colored bezel surrounding it;
The prominent Kindle logo at the top and at the back of the device;
3 Refresh Rate Full refresh every 6 pages
4 Data Transfer Through the micro USB provided (or even a generic one works fine)
5 Battery Charging By connecting the USB ("trickle charging") to your desktop or laptop or by using an adapter
6 Reading Experience Makes reading-on-the-go a delight like no other.
I absolutely love Kindle. It has developed my reading habits in ways I couldn't have predicted. If I were any bolder, I would have asked my friend to let me borrow her kindle for a few months more. Glad I have my own kindle now thanks to Molly Snow.

DIFFERENCES
CRITERIA KINDLE KINDLE TOUCH
1 Navigation 5 – Way Controller Touch Screen (Tap & Swipe)
2 Dimensions Height = 6.5 in (170 mm)
Width = 4.5 in (110 mm)
Depth = 0.34 in (8.6 mm)
H = 6.8 in (170 mm)
W = 4.7 in (120 mm)
D = 0.40 in (10 mm)
3 Weight 5.98 oz (170 g) 7.5 oz (212.62 g)
4 Capacity 2 GB 4 GB
5 Battery Life On a Single Charge
(with wireless turned off)
* Variance can be attributed to the use of wifi, web browsing, shopping at the Kindle store, etc.
Reportedly 1 month on a ½ hour daily reading time.
So roughly, a total of 15 hours.
Reportedly 2 months on a ½ hour daily reading time.
So roughly, a total of 30 hours.
6 Audio Capabilities Without Audio With Audio
7 Onscreen Keyboard Type by selecting letters on the online keyboard using the 5-way controller Touch screen keyboard with a rather fast return time
8 Physical Buttons 5 – Power + Home Buttons + Access to Onscreen Keyboard + Back Button + "Options" Button +
4 physical buttons for reading – "previous" + "next" on both sides
2 – Power + Home Buttons
9 Kindle Store Experience Have never tried it.
*Because I didn't have my own Amazon account then that's why.
Have already downloaded samples + full editions of ebooks over at the Kindle Store
(Thank you generous authors + publishers!

)
10 Special Offers None (at least with the model I was using) Plenty (which I, surprisingly, like)
11 Screensaver Default Default + Special Offers
The navigation has certainly been improved in the KT. I had not much problem with the 5-way controller in the Kindle but the touch screen has afforded me an easier way to go through the menus. This has significant bearing especially when highlighting a word or phrase, making notes, or searching.
As for size and weight, the KT is a tad bigger and just a wee bit heavier. You can really feel the difference between them when you've read for quite some time. The KT will feel slightly heavy after a few hours.
The extra 2 GB of memory in the KT is definitely a welcome enhancement. I don't have that much ebooks yet but I'm one of those people who would rather carry everything they can with them. The more, the many-er, as they say.

In the months that I've used the Kindle, I haven't had serious problems regarding battery. I think it was only a few times that I got "low battery" messages and the Kindle was able to charge through the USB without any hitches. With the KT, I have yet to find that out.
UPDATE: As I am often on the Kindle Store scoping out new releases or freebies, I get to use much of the KT's battery. I haven't really kept a tally but I believe it's working out better than I expected as I have only charged my KT for at least twice in 2 months (full charge).
For me, an ereader should be a dedicated machine for reading. While I welcome audio function of the KT, I wouldn't be pissed off if in case it doesn't work.
UPDATE: IT WORKS! I was totally surprised as to how much enjoyable it is to "read" audiobooks (my first time to try it). My KT proved to be a winner in delivering crisp clear sounds through the speaker or through headphones. I guess I'll be on the lookout now for free audiobooks.

The onscreen keyboard is way easier with the KT. Guess it helps how you can just "touch the keys" rather than scrolling through them.
Ooh. I love the Kindle store. And if I were rich, I'd be spending hours on there just to see what goods are available. It's totally rad how you can download a sample of the book you like and if you like it, you can just click "BUY". Kewl!
UPDATE: There had been some cool authors and publishers offering their books for free for a limited time, and I got lucky to download some of them. My Kindle Store experience has immortalized Amazon's reputation, so to speak, for being a giant in book sales as it was super easy to just download kindle books onto my device and wait for them to be delivered wirelessly (like 2 minutes tops).
The KT I got has special offers and at first, I thought I would find them annoying. But the opposite has happened. I totally dig them. It's great how you get a chance to avail of the daily deals and promos. And they never get in the way of reading as they only appear on the home screen. They make interesting screensavers, too. Nifty, if you ask me.
Satisfied as I am with the kindle touch, I too, have met some issues with it. So that's what I'm going to share to you tomorrow – some problems I've encountered in my quest to read digitally.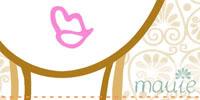 ——————————————-
Image © The Traveling Reader, 2012.
NOTE: I've written most of this review a few months back specifically to record my initial assessment about the device. The "Updates" included are to indicate new feedback after I've used the kindle for quite some time.