Today is the 3rd day of my Kindle Touch review. If on Day 1 we have unveiled the kindle from its package, and on Day 2 we have personalized it, today, I'm going to let you in on how this handy dandy reading device has changed my reading habits.
THE READING EXPERIENCE
Even before I received this great gift, I was no longer a virgin when it comes to using Kindle. Owing to a very kind and generous friend, I was able to test drive a Kindle – the $79 introductory device hereinafter dubbed by Amazon simply as the "Kindle" – for a few months. And it was truly an experience that cemented my growing love for ereaders. I used to snub my nose against electronic reading devices (ironic considering my degree in IT) because for me, nothing feels better than holding a real book and feasting on its literary goodness. But the Kindle changed all that. In the space of mere weeks, I started to prefer being engrossed in the stark beauty of black text against a white background. I toted the Kindle everywhere I go – at the mall, in the plaza, and even while lining up at the cashier. What was instrumental to my metanoia about the Kindle and other similar devices (I have yet to handle a Nook, Kobo or a Sony ereader though) are these 5 things (among others):
Portability – Hands down, this is one of its top features. Imagine bringing along your library virtually everywhere you go. No more dull moments while waiting for a bus, or a train, or that plate of spaghetti you ordered minutes ago. Huzzah!
Less eye strain – The person who invented E-Ink Technology must have been an avid reader, too, as he certainly revolutionized reading. E-ink does not glare even under bright sunlight (although the way you angle your device for your convenience will undoubtedly play a role). And that bit about E-Ink being "like a real paper"? It is super true. Even after reading for quite some time, my eyes never tire nor do I feel a need to rest my eyes unlike when reading in front of LCD or LED screens. I was diagnosed with a "lazy eye" on my left a couple of months back so the Kindle is really helping me to enjoy ebooks without the extra stress.
Less bulk – Weighing at only 7.5 ounces, the Kindle Touch fits my requirement for "lightness". I can hold it in one hand while my other hand is busy with something else. My favorite past time while waiting for my sister to go off from work is to eat snacks at the mall while reading with the KT (or the Kindle when I was still using it).
"Anonymity" – This is a double-edged sword. Since ereaders are not that popular with the local crowd yet, the Kindle usually gets stared at by others especially when I'm in crowded places like the mall. While the device gets admired, you can't help but feel a bit "intruded" as you'd rather read in peace. On the other hand, since not many people are familiar with such devices, you feel a bit assured that snatchers or hold uppers won't take an interest in my Kindle…yet. Small window of hope I'm leveraging on obviously. Haha
Less Space – Not having physical books could mean extra space. My mama was so pleased for me about my winning a Kindle and so happy for herself that there won't be physical books lying around in my room or hiding in the closet. Less stuff to clean, I guess.
And probably, one of the questions you'd want to ask me is if my having a Kindle has changed my sentiments about buying physical copies. The answer is "not really". I still buy glue-and-paper books as much as I can (or as much as I can only afford) but only those that I can't find electronic copies of. So that means the ones I buy now are older editions or out-of-print copies (usually middle grade novels of which I am such a super big fan. *wink*)
UPDATE: I still buy print books even until now. In fact, whenever I'm in the mall, I usually check out bookstores (hello, Booksale + NBS) and see what my meager budget can afford me. And unfortunately for my mom, my collection is outgrowing the space in our house. One would probably need a navigator just to go around my room. Hehe
Tomorrow, I'm going to do a side by side comparison between the Kindle (2011) and the Kindle Touch. Hope I'd be able to answer the questions about those two that have been niggling you.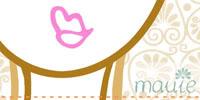 ——————————————-
Images © The Traveling Reader, 2012.