I can safely say that of all the beauty products I've tried, I am the least picky about mascara. I've had a few that I didn't like (and I've never liked a Revlon mascara), and too many to count that I've loved.
As some of you may recall, I was sent the Jane Iredale Magic Mitt a couple of months ago (by the way, I still use it nightly and I still adore it). After posting that review, the company offered to send me a mascara since that would fit under my Project Minimize requirements (especially since I am adamant about throwing my mascara away after three months), and I ended up receiving Jane Iredale's Longest Lash Thickening and Lengthening Mascara (as well as their PureLash Lash Extender & Conditioner, which will be reviewed in a separate post).
I tend to ignore the appearance of packaging, but this mascara just looks so darn sophisticated when it is in the same container as my less "posh" looking eye products. The tube is gold and unlike typical mascara tubes - this one is "squishy" (pardon my inability to find a better adjective). I've never had a mascara with similar packaging. To be honest, I was worried that it would dry up within a month. I've had it longer and it is still going strong. I actually feel like I will be able to get more product out of the tube, which is great, since the mascara itself costs $33. Considering the performance of the mascara, I think it is worth the money.
This mascara is meant to lengthen and volumize (and separate) lashes while still giving a natural appearance to your lashes. It can also be layered (I usually throw on one coat and go). The formula is also meant to be moisturizing so lashes stay healthy and conditioned. It is free of some of the more controversial ingredients found in mascaras (petroleum-based ingredients being one I personally am concerned about). Finally, it is said that this mascara contains 50% more product than most other mascaras. That is one claim I can't confirm or deny without doing some dangerous work with scissors and other sharp tools, so I trust that it is a true statement.
Here are the ingredients:
Ingredients: Water, Algae Extract, Beeswax, Carnauba Wax, Cellulose, Glyceryl Stearate, Glycerin, Hydrolyzed Algae Extract, Vanilla Tahitensis Fruit Extract, Sweet Almond Seed Extract, Tribehenin, Hydroxyethylcellulose, Panthenol, Oleic Acid. May contain: Iron Oxides, Carmine, Titanium Dioxide.
I believe that the mascara lives up to its claims. My lashes look nicely lengthened and volumized. I always fear having spidery-looking lashes, so it is great that I can get a natural look for every day. I also love that when I remove this mascara (along with the lash extender underneath), my lashes don't feel brittle. I may be wrong, but I feel like they have been given a chance to grow a little longer and thicker than usual, and that is amazing. I've used this mascara both with and without the lash extender and it is nice both ways, but I definitely see a little more "oomph" when I have the lash extender on.
Do I recommend this product? Certainly! I like putting a mascara on my eyelashes without wondering if something nasty is in it. I've got a long list of products I want to try in the future, but I can definitely see myself repurchasing this in the future.
Below are pictures of my lashes!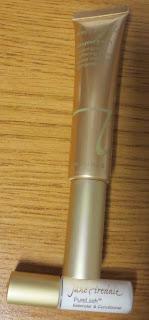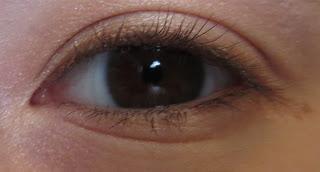 My lashes without mascara - they're pretty obnoxious.
Some point in the wrong direction and are straight, and others
are fine and hardly need to be curled. First world problems, eh?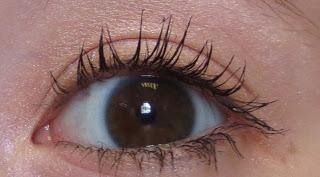 My lashes with one coat of the Jane Iredale mascara (and
lash conditioner)! I look shocked. But really I just can't take
 pictures like this.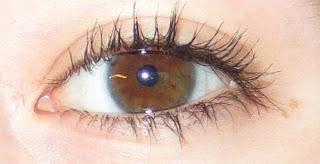 This was taken on a different day and without the conditioner.
I also didn't curl my lashes.
FTC: I was sent the Jane Iredale Longest Lash Thickening and Lengthening Mascara to review. However, I always give my honest opinion on products and will not compromise my own integrity for the sake of a product's reputation. I am not being compensated for this review and my ties with Jane Iredale are informal, but friendly (as in, I haven't signed a contract with them or anything).