Brilliantly creepy YA urban fantasy with old-school fairies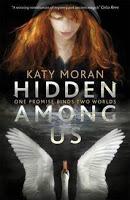 I loved this action-packed clash between our contemporary world and the old stories of the Fair Folk (here known as The Hidden). Deliciously menacing and utterly uncanny, there is no shirking from the fae's famed cruelty and absolute lack of humanity here. Yes, they are seductive, in that people can be dangerously beguiled by them, but there is no pretense at compassion or any kind of emotion from them. This is back-to-basics fairy lore.
The story is shared between three main narrators in alternating chapters (clearly headed with names). Rafe's is the first voice we encounter, describing the disappearance of his baby sister, Lissy. Most of the novel takes place fourteen years later, by which time Rafe has matured into a fascinating character, focused on his private mission to find out more about what happened to Lissy, which isolates him from other characters. The second chapter is narrated by Miriam, Rafe and Lissy's mother, whose voice we then hear only occasionally. Her viewpoint always reveals something tantalising though!
Lissy's own fourteen-year-old voice plants us firmly in the real world, with her normal teenage worries about her overprotective mother and how to gain more freedom. The third main narrator is Joe, the son of Miriam's boyfriend. I loved Joe. His mix of feelings as his family changes shape and he finds himself mixed up in Lissy and Miriam's drama is endearing and entirely convincing.
The plot is fast moving and in many ways thriller-like and yet Katy Moran still manages to find time to create atmosphere. The novel is eerie and chilling, just like The Hidden it centres on. The setting: the house of Hopesay Reach, built on sacred ground and with a complex history, has as much presence in the story as other famous settings such as the two houses in Wuthering Heights. The mystery element of the novel was another plus point for me. The writer does a great job of weaving clues and information about The Hidden
Overall, I'd urge you to read this if you like a creepy tale and enjoy folklore. I would recommend it to those who don't usually choose 'fae' books, as these are not the watered-down fae you sometimes find and are always disappointed in: there are no doubts here about the danger they represent.
From the Back Cover:
When Lissy meets a mysterious and strangely beautiful boy on her way to Hopesay Edge, she is deeply unsettled by their encounter.
She discovers that the boy, Larkspur, is a member of the Hidden, an ancient group of elven people, whose secrets lie buried at Hopesay Reach. Before long, Lissy and her brother Rafe find themselves caught by a powerful magic and fighting to escape a bargain that can never be broken.
**********************Published 7 March by WalkerFind more information at
Goodreads
My grateful thanks to the publisher for sending a proof for review