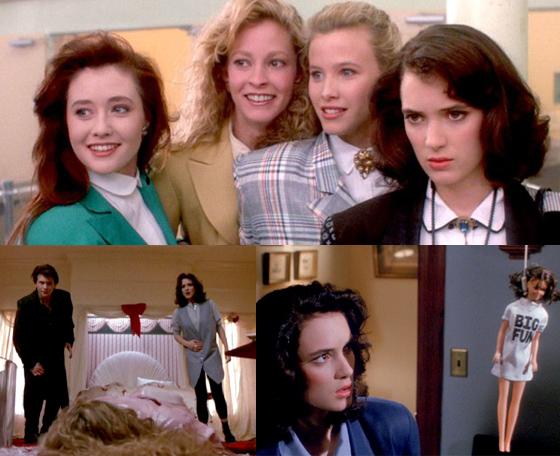 "If you were happy every day of your life you wouldn't be a human being. You'd be a game-show host."
As the '80s child, teen films in the decade somehow interests me every time. I love the music and the fashion, though now some of them is outdated. I enjoyed Breakfast Club and kind of enjoyed Ferris Bueller's Day Off, but I've never seen anything like Heathers (1988). Perhaps today's films are too much stereotyped and labeled, like chic flicks, or actions, or superheroes. But Heathers definitely stand on its own. Sure it's a coming-of-age black comedy, but rather outspoken and bold for its genre and its teen audience. I'm afraid parents nowadays won't recommend this film, as it's strong language, dark and might send the wrong message. Well, I advised you to be at least 20 years old when watching this. It's not what you called a proper film to see when you don't know the harm of weapons. Heathers, the title is actually a group of the most popular and feared girl club named Heathers in high school. All three official members named Heather, but the leader, Heather Chandler (Kim Walker) is the most feared and powerful. Veronica (Winona Ryder) is also popular, she's on her way on becoming a Heather, though she's not wholeheartedly want to be one. On her way on taking Heather's poll during lunch, she met the eyes of Jason 'JD' Dean (Christian Slater) who looked charming and handsome. JD quickly becomes the talk of the school because he pointed blank gun to two seniors who were intimidating him. But Veronica is still fascinated by the guy. Heather Chandler takes Veronica to a college party, but when Veronica refuses to get intimate with a college dude, Heather threatened to spread bad rumors about her.
On the same night, JD and Veronica becomes intimate and both agrees to poison Heather Chandler in the morning. Though Veronica didn't want to use dangerous liquids, she accidentally picks JD's mixed poison drink. They successfully influence Heather to drink it, but the drink is too strong that Heather died instantly. Both quickly create a fake suicide note, stating that Heather was unhappy and stressed being the most popular girl in school.
The news shocked the whole school and it becomes a concern among the teachers. But then two seniors faked a story that Veronica 'service' them both, which makes Veronica's image bad. Veronica and JD once again plan to scare them with a nonfatal gun. Though it's almost unsuccessful, the two guys died as two gays in love, as JD and Veronica's plan. But then Veronica realized that JD is not the best influence for her, as she knows more dark things about him. JD also influence Heather Duke (Shannen Doherty) to replace Heather Chandler as the lead of the group. Heather Duke quickly becomes a replica of previous Heather. Veronica realize all that, is on her own to stop JD doing more damage.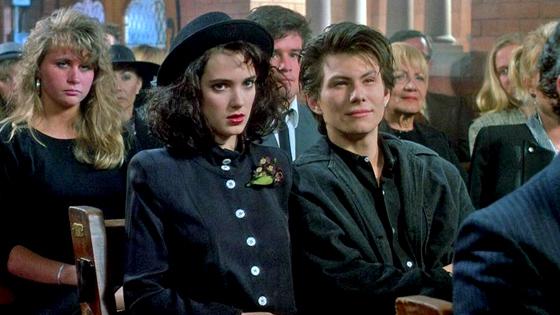 Heathers have some young and excellent casting in it. Winona was a natural Veronica, and she's quite on her prime. I read that she begged for the role and she nailed it. Also, Slater who conquered the JD role perfectly; charming and dangerous. Both was a killer combination, undaunted and cute at the same time. It was nice to see young Shannen Doherty as calm Heather Duke, she's sweet and seem harmless, but can be easily manipulated. This movie must have been quite stylish at its times, because the girls wear festive colors and models. I also loved the shocking opening where it used Que Sera, Sera song. Just because I saw them first, this movie reminded me of Jawbreaker (1999) and Mean Girls (2004).
I did saw Heathers when I was a kid just a few scenes, I remembered how charming Slater was and I remembered one of the climax scene. But maybe it's best for me to watch it now, because as a little kid, Heathers was too strong for me. But it moved me now in a way that made me realize how fragile high school kids are. How they absorb anything as an almost adult. How they are so emotional and can be so dramatic about their place in social life and in the world. Admit it, there are some people who could use a justice in high school. Perhaps there's a little satisfying feeling when Veronica and JD take over a justice for some people that were horrible to them, but life's not that easy.
Perhaps in high school, there should be one/two popular person to be feared/admired. If not Heather, then there's another Heather. But not anyone can be a good role model for real. Others seek for good image, popular image and at least to be acknowledged for something cool. And nowadays, those pressure aren't getting low. As we're getting older, some people still seek the same. But image really is just a mask, and what we're looking for is just power.
Heathers might be a teen movie, but it feels like a mini-version of politics. Don't like a person, just shove them away or create a fake bad image for them. Want to join popular club? You should willing to do the things you aren't proud of first. It's pretty blunt on showing its actions, nothing vague or implied. Heathers was pretty brave on its twist and plot, also dialogues. But that's what makes it fresh and a successful cult classic.
Apparently there's no good quality of the trailer except this one.
Movie Score :