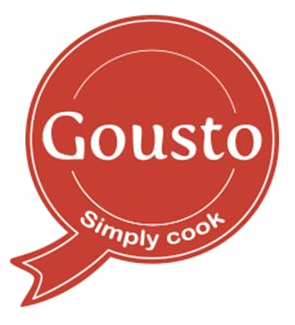 Hello again! Today I have a review of the second recipe from our Gousto Box, if you want to see the first one click here, it was a roasted veg penne with grilled mozzarella! For those of you who haven't seen that previous post and want a little more information about Gousto, read below :)
Gousto is an amazing service which provides you with a box full of yummy, healthy and nutritious ingredients for certain recipes, every week you get the chance to choose from recipes on the website, which are updated every week, ensuring you don't cook the same meal twice! The recipes are then delivered right to your doorstep once a week so you decide when to cook! From delicious pasta bakes to oriental stirfrys, with different cuisines from Italian to Chinese, Indian to Caribbean, with plenty of meals to choose from you'll find it easy to choose meals to suit the whole family! 
I've really been getting into my cooking recently, since I've started focusing on healthier eating I've discovered just how much I enjoy cooking and couldn't wait to get started with our box! I had a browse online and chose my 3 meals, I decided on 3 completely different cuisines and have taken pictures of the prep and cooking below, along with everything you need to know about how to cook them! Don't worry if you're not much of a cook, these are so easy to do and can be done by anyone, also there's no worry about using too much or too little ingredients, everything comes in the exact portion needed for you so no food waste either, perfect!
Recipe 2 - Chicken Escalopes with Taleggio & Leek Gratin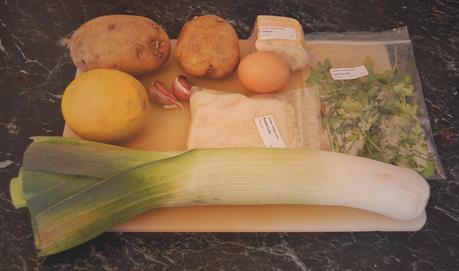 These are the ingredients needed to make this
For 2 people
1 x Leek
1 x Lemon
2 x cloves of garlic
2 x potatoes
Taleggio cheese
Parsley
I will start off and say I have slightly amended the recipe as Ben & I were both poorly last week and didn't end up cooking this on the day we were suppose to, so after preparing everything we realised the chicken was out of date, and of course there weren't any escalopes in the shops so we had to go for second best and buy them already breaded..if you are looking to do this part of the recipe, click here for the original recipe! 

Now, onto the recipe...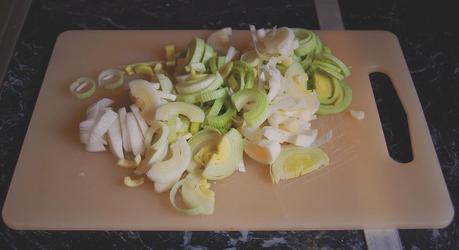 1.Firstly cut the leek lengthways and chop finely!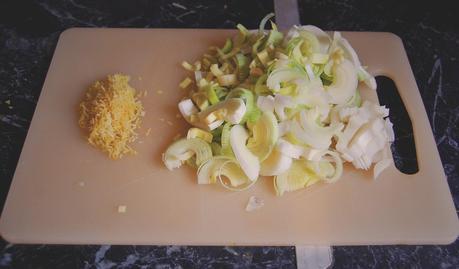 2.Grate the zest of one lemon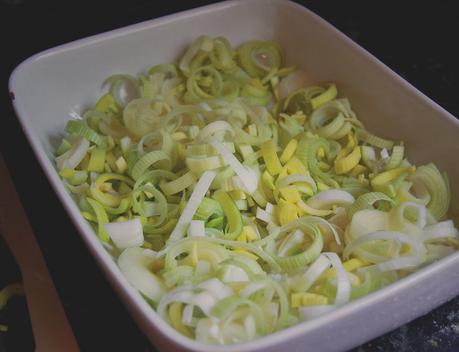 3.Add the leek to a 4cm deep oven proof dish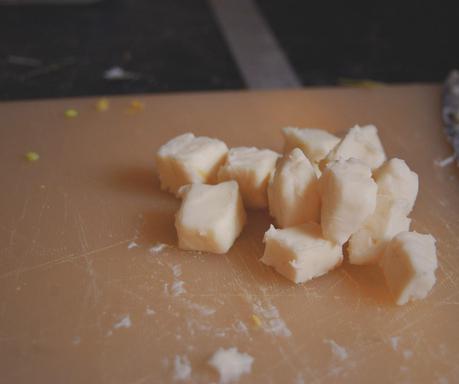 4.Chop up the Taleggio cheese into cubes (be warned, this is a rather strong smelling cheese!) Haha.

5. Season the leeks with salt and pepper, then squeeze in the juice of half a lemon and mix together6.Add the cheese and sprinkle the lemon zest evenly over7.Put on the middle oven shelf & place your chicken escalopes on a baking tray on the top shelf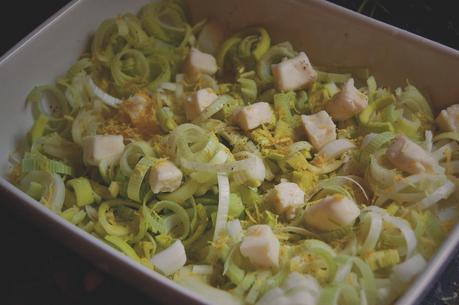 8.Boil the kettle (will use in step 10)9.Whilst that's all cooking, peel and chop up your potatoes (3cm pieces should be fine)10.Peel the garlic and add to the saucepan with potatoes - Pour in the boiling water until potatoes are covered. Cook over medium-high heat for 10-15 minutes or until tender11.

Turn off the oven once cooked and leave everything in to stay hot

12.Once potatoes are cooked, drain with colander and return to saucepan, add a splash of milk and some butter, mash it all together until no lumps remain13.Sprinkle with parsley14.And serve!!Here is our finished product!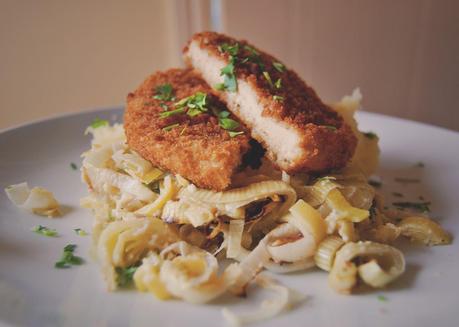 Look out for our third and final recipe next week! A Caribbean coconut curry with basmati rice! :)
Visit the Gousto website here
x