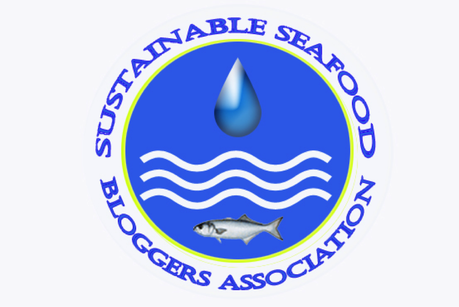 One of the reasons I decided to join the SSBA was to educate people. While there is plenty of information put out there by industry experts, there are far fewer books on the subject than I would have expected. One of the best I've found is Good Fish, a cookbook written by Becky Selengut, which includes not only recipes, but also tons of great advice on buying and preparing seafood responsibly.
   In Good Fish, Selengut explains the difference between wild and farmed and methods to look for when shopping for either. When purchasing wild fish, the most environmentally friendly methods are trolling / hook and line, using a pot (for crabs and shrimp), and small scale purse seining. Two of the worst that should be avoided are dredging / trawling and long lining. When purchasing farm raised fish look for a closed containment system vs. right along the ocean shore, and vegetarian fish (like catfish or tilapia) or shellfish that feed on plankton in the water. If you do eat carnivorous fish or those higher on the food chain pay attention to feed ratio (varies by type of fish) and quality of feed.
She also addresses things like seasonality (which my fellow SSBA member Richard recently mentioned is a great way to save money), buying tips, questions to ask when buying, what does fresh really mean, safety concerns when eating raw seafood, how flash frozen fish is handled, and more.
   Although the book is focused on pacific coast because that's where Selengut is from, the advice is applicable anywhere and many of the fish she mentions can be found throughout the US (and beyond).
The title Good Fish comes from 15 good fish featured in the book – species that are not over fished and caught in ways that are not harmful to the environment or farmed ethically and naturally. The fish are organized by type (shell fish, finfish, and little fish and eggs), and Selengut provides 75 different recipes for the 15 fish ranging in difficulty. For simplicity there are five per fish, and they're listed from easiest to most difficult. Selngut offers great advice on questions to ask your fishmonger, substitutions if the fish in your recipe is not available, and even includes wine pairings from expert Sommelier April Pogue.
   I tried several several of the recipes in the book (from the easier sections), and they were all very easy and tasty.  My favorite was the Cod with Bok Choy and Caramel Soy Sauce, which I'm going to share with you!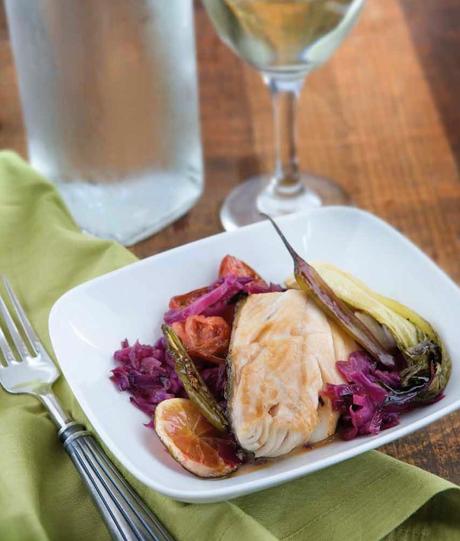 Roasted Black Cod with Bok Choy and Soy Caramel Sauce
*(c)2011 By Becky Selengut. All rights reserved. Excerpted from Good Fish: Sustainable Seafood Recipes from the Pacific Coast by permission of Sasquatch Books.
Photo Credit: Clare Barboza
Serves 4
5 ounces red cabbage, thinly sliced (about 2 cups)
2 large bulbs bok choy, halved 2 small tomatoes, halved Salt
4 green onions, white and green parts cut into 3-inch lengths
4 teaspoons toasted sesame oil
4 teaspoons seasoned rice wine vinegar
4 slices lime
1 serrano chile, sliced (optional)
1 pound black cod fillet or steaks, cut into 4 equal portions
½ cup Soy Caramel Sauce (recipe below)
4 cups cooked rice
Preheat the oven to 400 degrees F. Line a sheet pan with aluminum foil.
You're going to make 4 separate piles on the foil. Each pile will get ½ cup cabbage, a bok choy half, a tomato half sprinkled with a little salt, and a quarter of the green onions. Drizzle each pile with 1 teaspoon sesame oil and 1 teaspoon rice wine vinegar. Top with a lime slice and sprinkle with some chile pieces. Roast the vegetables in the oven for 20 minutes, or until they are soft and lightly browned around the edges. Keep the oven on.
Remove the pan from the oven, place one piece of black cod, skin side down, on each pile, and drizzle 1 tablespoon soy caramel sauce on each piece of fish. Roast for another 8 to 10 minutes or until a press of the finger reveals a sliding away, ever so gently, of the fish into the beginning of individual flakes. Serve with the rice and remaining soy caramel sauce.
Pairing: An Oregon pinot gris, such as Eyrie Vineyards 2007, Willamette Valley, or a Savennières from the Loire Valley in France.
Soy Caramel Sauce
Makes about ½ cup
2 tablespoons soy sauce
¼ cup sake (I substituted dry sherry)
3 tablespoons mirin
1 teaspoon sugar
1 tablespoon lemon juice
¼ cup (½ stick) cold unsalted butter, cut into tablespoons
In a small saucepan, add the soy sauce, sake, mirin, sugar, and lemon juice. Bring to a boil over high heat, then lower the heat and reduce to a simmer. Cook the sauce until it is reduced by half, 5 to 7 minutes. Turn the heat down to its lowest setting and whisk in the butter 1 tablespoon at a time, adding each only after the previous one has melted. Taste and add more lemon juice if desired.
For more recipes like this, you can buy the book here:
Up Next Week: Where to Shop for Sustainable Seafood
What do you want to read about seafood and / or sustainability? Leave your topic suggestions in the comments section!