If you're riding flats then your shoes need to be as sticky as possible. Previously I thought the Shimano AM41s did a good job of this, but I was wrong.
Compared to the FiveTens the AM41 is like going biking in your house slippers, comfortable but lacking in practicality, that's not to say that they aren't still a good option though – it's just like comparing an showroom hatchback to a high-performance sports car, they do the same thing but the one does it so much better.
The FiveTen Freeriders don't just stick, they stick like an octopus covered in double sided tape. It's almost too much!
FiveTen Freerider MTB Review
My first impression when stamping on the pedals with the FiveTen Freerider was just how firm and planted the sole feels, providing ample support of your whole foot. This was then immediately followed by me thinking I'd clipped in – they're that grippy that you feel like you can pull up on the pedals!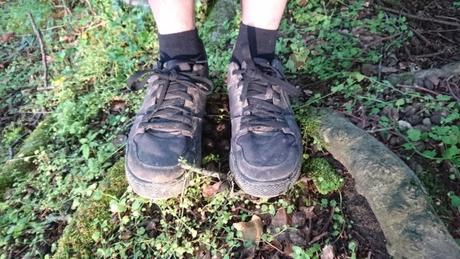 Aesthetically the Contacts are great. They look like an everyday, knockabout trainer and if you want to wear them like that then you can – unlike Shimanos offerings. There are loads of colours available too, which means that you can buy shoes to match your bike (come on, we've all done it) or simply pick your favorite colours.
Unfortunately the Freeriders aren't without their downsides.
The canvas upper gets dirty really quickly and mud tends to stick to them, while its MTB and we expect things to get muddy the inability to just shake it off is quite annoying.
There's nowhere to tuck your laces away – although I haven't caught mine in the chain it wouldn't take much for it to happen
They hold water like a bucket – great if you need an extra drink on the ride, a pain in the ass if you're riding in the winter.
The last point I'm going to flesh out a bit more. I have now gone through an entire winter's riding with these shoes and while they performed brilliantly and the grip never faultered, when it's raining it feels like you've strapped bricks to your feet.
Water makes its way in, sloshes around and never leaves and it takes a day or two for them to fully dry out. Waterproof socks really are the only way to ensure a winter with these on your feet – I'm currently reviewing some Dexshell socks which have really helped with this.
Overall Opinion on the FiveTen Freerider Shoes
I'd buy these shoes again in a heartbeat.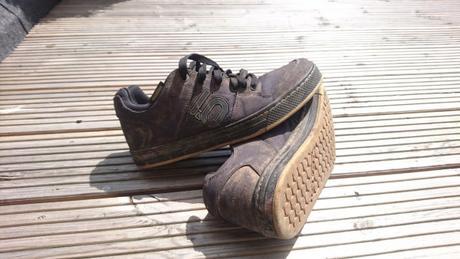 The performance is unparalleled, comfort is high and they look great on or off the bike. The price tag hovers around the £60-£80 mark and that is about what you'd expect to pay for a great MTB shoe and if you can get them in the sale then it's even better!
For nearly a year's worth of use and 1000s of km on the bike they still look great, which is more than could be said for other shoes I've used in the past. The only downside is how much water they retain, but there are other versions out there – like the Elements – which offer better water resistance.