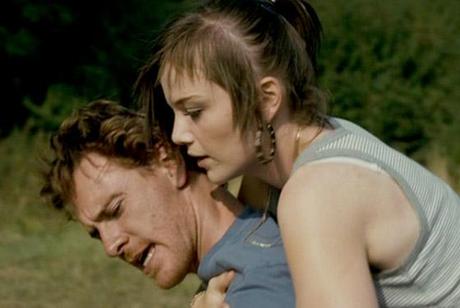 Everybody was once stupid, spoiled brat or a nobody. When you're a teenager, it feels like you're in the halfway. Mind still like a child, while body grows almost like an adult. We couldn't quite figure who we really are yet. Realize or not, we start to find someone to be a role model. The first figure we look at must be our parents, no matter how messed up they can be. And our home sometimes feel like a jail, but it's your home and you've got no place to go.
As a 15-year-old, Mia is still on searching for herself, though she look tough, athletic and brave. She loves to dance to hip hop music, and mocks people who danced poorly like her neighbors. She lives with her sister and mother, who is a single parent. Her mother isn't one of the conservative parents, in fact she's quite loose, have no trouble bringing a new man to their house. Family members often curse to another as a daily language. Booze and smoke isn't something taboo. But there's a new man beside Mia's mother, Connor (Michael Fassbender) who is different from another.
The man shows up when the house needed badly a man too look up for them, without the girls realize it. Connor gave a tender and comfort the girls need. At the same time, Mia is a growing woman, still doesn't understand about boys or feelings. Still partly not aware that she's attractive, though not as yet a whole woman like her mother or that she needs a man as well. At the same time, she find herself interested to the man that could become her step father. Connor acts fatherly, with a little bit flirtatious act, but it's a spark that both of them couldn't deny.
"You need sortin' out, you do."
"So you keep sayin' But you're nothing to me, so why should I listen?"
After all her bad attitude, her mother sets her to enter a special boarding school for kids like herself. She throws the envelope to the window. She's more interested to take a local dancer audition. Connor sees all her acts then challenge her aside by supporting her, didn't bought her hostile attitude. It was all Mia need at the moment.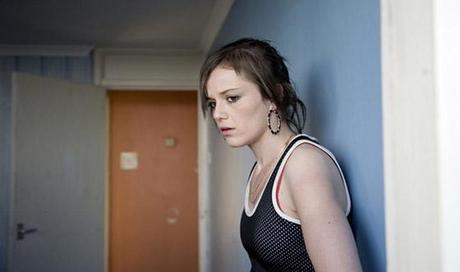 Fish Tank isn't just a movie about Mia taking a shot on her talent, but also on her maturity. She sees a white wild horse being chained in some field and nearly got molested for saving it several times. It's like an analogy of her needs to be set out free. Connor's arrival in their house seems to make the little family understand their bond needs to be tighter. There's a definite difference between boyish Mia and her sexy mother, though both look wild. As chaotic as the house are (the mean words towards each other as daily language, the drinking and the smoke), family are family. It's thicker than blood. They all seem careless to one another, but Connor came to make change.
Why I care to watch this film firstly because it starred Michael Fassbender (obviously). After Hunger and a series of his solid performances (and gorgeous looks), the man seems doesn't have a weak act. Looks like this movie is the only one that utilize his great looks, while most of his other movies seem to highlight his violent or harsh personality. But as I said before, it wasn't his bad performance at all.
The other great performance is Katie Jarvis, this is her debut performance. I don't know her real character outside this movie, but she gave the power in the movie. She can be very violent, a rebel, but in other times she's soft and kind. A perfect performance of an aspiring dancer still tracing her dreams and life, but she have a seed of originality.
It's is an enchanting tough drama about a growth of Mia, who grows tough because of her rough environment. The girl nearly got raped and chased a couple of times in the movie, but still puts a brave face. Secretly, she seeks out comfort and parenthood, at the same time the presence of a man in her life.
I'm glad it doesn't suffer a coming-of-age cliches, like many drama about aspiring dancers. Like Save The Last Dance, Center Stage or Honey, but this one have a real feeling into it. I also love the ending. There's also an interesting mix of music for Mia's dance, including Connor's pick California Dreamin' by Bobby Womack. I'll recommend this if you want to see a decent drama.
Movie Score :