Review:

E.l.f/UNII Cosmetics


If you're one of my many readers from the US, then you'll already have an idea as to what e.l.f (eyes lips face) and UNII cosmetics are like, however those of you in the UK and perhaps other places around the world might be a little unsure. One of the things I like to do in my spare time is to watch beauty and makeup tutorials/channels on YouTube and a lot of said vloggers use e.l.f products, so I had a pretty good idea of the quality of the products and the brand itself. UNII, I'll admit, I've not really heard much about, but when I 

received

 an email from a beauty PR company saying that the cosmetics were branching into the UK and asking if I would like to do a review on them at Vita di Moda, I sort of jumped at the chance and had to say yes.

The problem I then faced was: well, do I write up a blog post with a product review, or do I make a video and maybe even branch into YouTube and create a channel for Vita di Moda? In the end I've decided to do both, however I haven't yet made the vlog - I'll keep you posted on that though!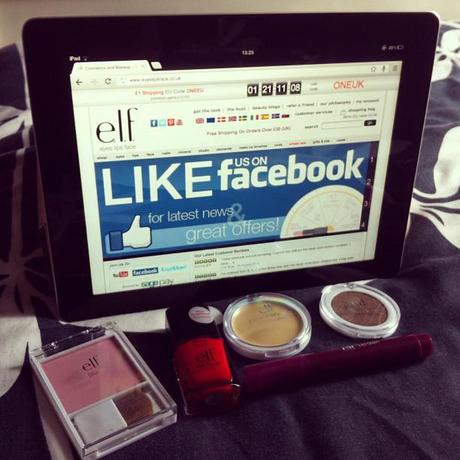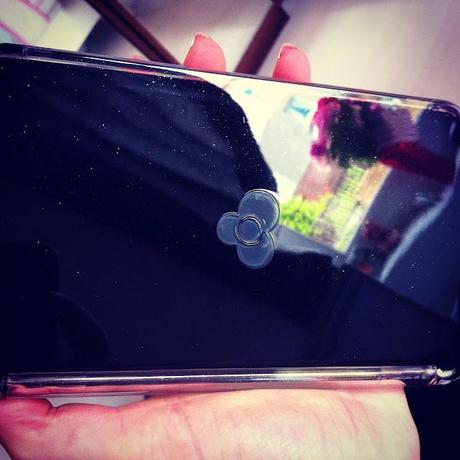 As you can see above, from e.l.f I was sent: Blush in 'Shy', 'Smokin Hot' red nail polish, Cover All Concealer in 'Corrective Yellow', Glitter Eye Shadow in 'Cowgirl' and the Lip Stain in 'Berry Blush'.
And then underneath the UNII Palette in 'Midnight'
Starting off with e.l.f: I absolutely love, love, love the

lip stain

in 'Berry Blush'. I honestly can't stop raving about it. I put it on as soon as I took it out of its packaging yesterday and only had to top it up another twice throughout the day due to having my lunch/dinner etc. For £2.50 I wasn't really expecting it to be all that great. I've tried various lip stains from the likes of L'Oreal, Benefit etc and have paid a significantly higher price than what e.l.f charge for theirs and now I just think "why haven't I known about this brand before now?" I would have seriously saved myself a bit of money! The product comes in four colours including: Pink Petal, Berry Blush, Crimson Crush and Nude Nectar - at £2.50 a pop, I think I'm going to have to just buy them all. Here is a photo of what the Berry Blush looked like on...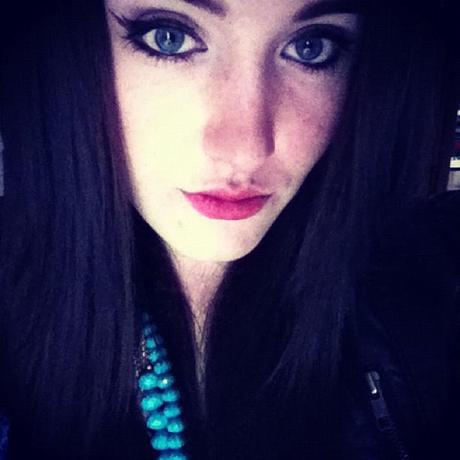 Next up is the

blush in 'Shy'

: I don't normally wear blush unless I'm up at the crack of dawn and need a little help looking as though there's life in me, just because I naturally have quite pink cheeks all the time and blush would just make me look a little clown-like. I gave the blush a go in the name of testing it out and I was pleasantly surprised. The blush isn't too pink and doesn't overly flush my cheeks: it's more of a highlighter in a way - on me anyway and I have quite fair skin. I like how it gives my cheeks a little glow and brightens them up so yes, definite thumbs up for the blush. You can buy it in 'Shy' or 'Glow' and is only £2.50!
The

Cover All Concealer in 'Corrective Yellow'

: I haven't tried a concealer that isn't a little lighter than my foundation before - especially a yellow one - so this was a first for me. The concealer promised to fix any blemishes or dark under eye circles that you may have, so when I saw it at first I was excited to give it a go. The texture is nice and creamy and seems as though it will give a nice coverage. The only problem I might have thought of was the concealer appearing cakey after a few hours, but again I had to try it out. I used the product when putting on my regular every day makeup and was actually glad that the products arrived this week, as my skin has recently suffered a little break out. If you look up at that photo of myself you'll slightly notice the little blemish at the corner of my mouth/chin? Well that particular blemish without makeup is a little large and red looking, but with the cover all concealer it almost disappears. I mentioned that I was worried about the product appearing cakey after a while, so as a test I applied some powder over the concealer on my chin and left it as it was under my eyes - just to see if that cakey appearance would occur. It did under my eyes, but that seems to be the norm with any product that you don't properly set with powder. The concealer stayed near perfect on my chin though with the powder, so for £2.50 I would definitely say that this concealer is a great buy. The product comes in 'Corrective Yellow', 'Light' and 'Medium' so there's a shade for any skin tone. 
Next is the

Glitter Eye Shadow in 'Cowgirl'

: I'm going to be honest and say that this shade isn't something that I would normally go for and haven't yet tried out on my eyes. I'm not normally a glittery type of person - in makeup anyway, but I swatched the eye shadow on my hand and was quite surprised as to how pigmented the shadow was. Normally with glittery eye shadows, you just get the colour, or the glitter, but never both showing up as strongly together. With this product you get an even distribution of both pigmented color and the glitter, so that's a definite plus point about the shadow. With the glittery/shimmer appearance, I wondered if those allergic to products like this would be able to wear it, so I asked my sister who is allergic to glitter if she would test out the product and be a guinea pig. Don't worry, I didn't force her into her, she willingly said that she would try it out. After 30 minutes with a swatch of the product on her hand, I can happily say that she didn't suffer a reaction and didn't blow up like a puffa fish - which is how she normally reacts whenever glitter or shimmer touches her. Although my sister can wear this product, I am not saying that those with a glitter allergy can wear this and won't suffer a reaction. Everyone varies, so although it's ok on my sister, it might be a different story for you. You can buy the eye shadow in a range of colours for £2.50 which is a pretty good deal if you ask me.



Last up is the

red nail polish in 'Smokin Hot'

: I was a little nervous to try this colour, purely because in the past I've had bad experiences with red nail polish. They either go on gloopy and take FOREVER to dry, or the color ends up staining my nails and ends up difficult to remove. 'Smokin Hot' by e.l.f however is my new go-to for red nail polish! With one coat you're good to go as the color is really pigmented and glossy, so two coats isn't all that necessary. The brush is a nice shape and manages to coat about 99% of the nail with one swipe, which is great if you're wanting to do your nails in the morning and you're in a bit of a rush. The best part? the polish dries in about 80 seconds. I couldn't believe that it dried so fast, especially since the color is so rich and normally those types of shades take a while to set. The color has a nice shine and for another £2.50 is definitely a great buy. I think I'm going to purchase a few more colours and build up a little collection. Due to the filter used on Instagram, the color doesn't appear as true to how it is in reality, but you get the jist of it .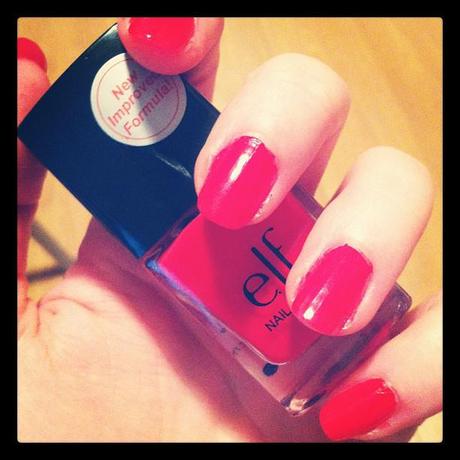 Now I'm going to move on to the

UNII Palette

. UNII are a cosmetics brand who specialise in one product in the UK to date. The UNII Palette had been designed for all of your favorite refills and products such as concealer, shadow, blush etc. You simply take the product from it's original little pot and place it into the palette after attaching the magnet to the bottom to hold it in place. The palette is great with it's glittery cover and little floral magnet inside to act as a thumb grip when applying your makeup. As you can see in the image below, I have put the cover all concealer and blush in my palette, however when I tried to get the eye shadow from it's little packaging, it almost cracked, so I aborted that mission and left it as it was. There's nothing more heart breaking than cracking your eye shadows or powders, so I wasn't going to risk it.
With the palette you are given a sheet of magnetic adhesive so that your refills and products stay put when in the palette. You simply cut it to size and take off the sticky back to attach it. I've found that the products stay well in place when in use and don't slide around, so it's definitely a good product. The only thing I have issues with is taking things from their original packaging to place inside. I actually broke a pair of beauty scissors when trying to get the concealer out - as you can see, I also ended up slicing the scissors through the product in the process. face palm moment right there - so I think I would prefer to just buy specific refills from the likes of MAC etc to place in the palette. You can get the palette in a range of colours including Midnight (which is what mines is), Honeysuckle, Turquoise, Pear, Lavender and Crystal. If I were to choose a color if would have been the midnight black or crystal and I think those two colours show up the glittery sheen the best and look a little more expensive than the rest. Want one? They're only £15 to buy online at

www.uniicosmetics.co.uk

, and I think they're a great idea if you want to keep various products that you use on a daily basis in the one place. You can also switch them about to suit your needs, so go and get yours now!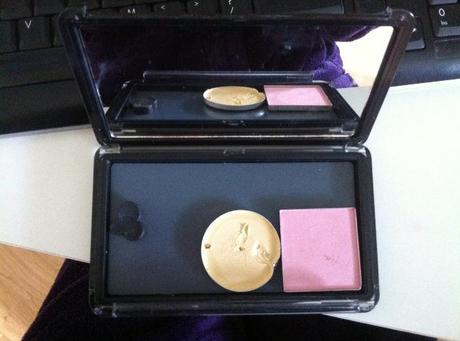 Have you tried out e.l.f or UNII cosmetics? What do you think of them? Also, what do you guys think of beauty related posts? A hit or a miss for you? Let me know and I might start doing some every now and again!