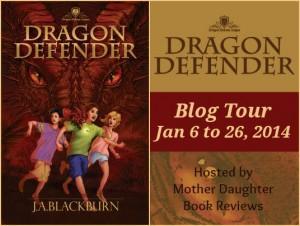 Do you remember the nerdy kid from your class? Most likely a boy who loves to spend more time with rocks, bugs or robots than other kids and he always seemed to get good grades, even when the rest of the class struggled. In middle school there was a boy who fit this description to a T. He always got good grades, loved preparing for the science fair and was more likely to be invited to birthday parties by the moms rather than the kids who were actually celebrating.
You may think you have these kids pegged, but they may surprise you by how sociable, thoughtful or courageous they are when put into certain situations. J.A. Blackburn's first middle grade book, Dragon Defender (Dragon Defense League), takes this situation to the test.
Peter Clark is 12 years old and spends more time in his room with his robots than socializing with the kids he attends school with. It's been an issue and his grandmother is worried he's too antisocial. The night of his birthday Peter receives an unexpected visit from his Uncle Dominic. Dominic wants to begin training Peter to defend Dragons from poachers, the same as his mom did when she disappeared. The only problem is that Peter doesn't believe in these mystical creatures.
When Peter's grandmother discovers Peter and Dominic talking, she flips out and sends Peter to his room so she can speak to Dominic alone. When Peter overhears the argument they have, he can't help but have his curiosity peaked and he skips out of the house and gets into Dominic's car when he pulls away. What's a little mission to Mexico to save a mystical creature's egg from discovery anyway?
Peter doesn't know what hits him as he is transported behind the scenes to the Dragon Defense League's headquarters in Mexico and begins to learn about the existence of dragons and all the variations that exist around the world. Almost immediately things go wrong and Peter will need to rely on his own intuitions, and the help of strangers to save this Mexican dragon from possible extinction.
This is a fantastic story. It's a simple storyline, but the potential for the story to take off in a million different ways is there. Peter is a great character because, although he feels inadequate, he is able to rely on his instincts to find the right help. Peter and his band of social misfits bring a lot to the story and kids of all different backgrounds and interests will love this story, especially boys who may be able to relate to Peter. Overall, I give it 4 stars and look forward to seeing a sequel.
What kind of stories do your middle school kids love to read?