Once a month or so I'll share a book review. We're continuing our vampire theme. Are you tired of vampire books or do you still snatch them up?
The Coldest Girl in Coldtown by Holly Black – This is a different spin on vampires. The heroine views life filtered on an an event that happened with her mother at an early age.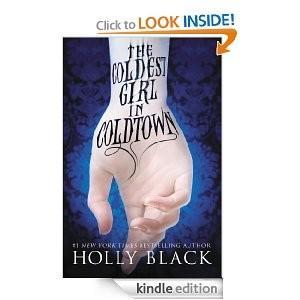 Tana lives in a world where walled cities called Coldtowns exist. In them, quarantined monsters and humans mingle in a decadently bloody mix of predator and prey. The only problem is, once you pass through Coldtown's gates, you can never leave.
One morning, after a perfectly ordinary party, Tana wakes up surrounded by corpses. The only other survivors of this massacre are her exasperatingly endearing ex-boyfriend, infected and on the edge, and a mysterious boy burdened with a terrible secret. Shaken and determined, Tana enters a race against the clock to save the three of them the only way she knows how: by going straight to the wicked, opulent heart of Coldtown itself.
The Coldest Girl in Coldtown is a wholly original story of rage and revenge, of guilt and horror, and of love and loathing from bestselling and acclaimed author Holly Black.
Similar books in the genre I also recommend: (we're going with vampires here)
Sherrilyn Kenyon's Dark Hunter series
J.R. Ward's Black Dagger Brotherhood series
Twilight series if you're one of the few who hasn't read it
The Immortal Rules series by Julie Kagawa
Cheers!
Share on Tumblr

comments feed

Send to Kindle