Once a month or so I'll share a book review. I grew up in a household where TV was rarely allowed but books…well, you could pretty much read whatever you wanted, whenever you wanted.
After I exhausted my library stash, I'd go through my dad's pile of used books. Oh the worlds I discovered! Everything from Tom Clancy to Stephen King to Diana Gabaldon. Let me just say – reading Salem's Lot, Jaws and IT as a child–I can still scare myself silly hearing a strange noise or feeling a fish brush up against me in the ocean – grins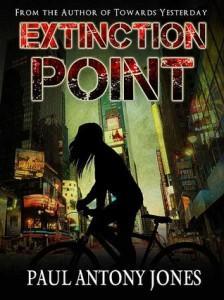 Extinction Point is by Paul Antony Jones. Here's the book description and then my thoughts:
Reporter Emily Baxter has a great job, an apartment in Manhattan, and a boyfriend she loves. All that changes the day the red rain falls from a cloudless sky. Just hours after the first reports from Europe, humanity is on the brink of extinction, wiped from the face of the earth in a few bloody moments, leaving Emily alone in an empty city. As she struggles to grasp the magnitude of her situation, Emily becomes the final witness to the end of our world… and the birth of a terrifying new one.
The world she knew and loved is dead and gone. Now Emily must try to find a way out of New York as the truth behind the red rain is revealed: the earth no longer belongs to humanity.
I like 'end of the world' books. There was a history article in the News and Observer talking about a 'red rain' that took place in North Carolina. I love when someone takes a headline and creates fiction. I'm not saying the author did that here but he could have. The story has a strong female lead on a journey of hope and I loved the sci-fi elements, especially the red trees. They sounded sinister yet beautiful. Unlike my favorite TV show, The Walking Dead, Emily did not have to contend with zombies but she doesn't have it easy as she has creatures of her own to deal with. The author leaves you wanting more and I went straight to the second book. He leaves a cliffhanger for the 2nd book as well…guess I'll have to wait for book 3 to find out what happens next.
Exodus is the 2nd book in the series and is just as enjoyable. Am looking forward to the 3rd book, coming out in 2014.
Similar books in the genre I also recommend:
Season of the Harvest by Michael R. Hicks
The Fifth Wave by Rick Yancey
Cyberstorm by Matthew Mather
My next review: Carved in Bone.
Cheers!
Share on Tumblr

comments feed
0
0

Send to Kindle