Once a month or so I'll share a book review. As I mentioned last month, I grew up in a household where TV was rarely allowed but books…well, you could pretty much read whatever you wanted, whenever you wanted.
I grew up devouring books and to this day I easily read 300-400 books a year across many genre's. Though I prefer the escapism Fiction provides, I occasionally read non-fiction and recently finished and enjoyed Lean In by Sheryl Sandberg.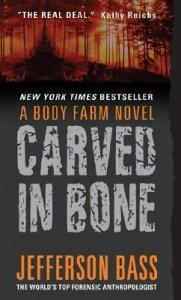 Carved in Bone by Jefferson Bass isn't for the faint of heart. If you enjoy CSI and don't mind bodies being cut up, then you'll enjoy Carved in Bone. I liked the insular mountain town and not knowing if the so-called 'good guys' are really good or completely corrupt. The information about the Body Farm in Tennessee is fascinating. Can you imagine working there? I'd scare myself and probably wouldn't last a day but I wouldn't mind a field trip.
Book Description: There is a patch of ground in Tennessee dedicated to the science of death, where human remains lie exposed to be studied for their secrets. The real-life scientist who founded the "Body Farm" has broken cold cases and revolutionized forensics . . . and now he spins an astonishing tale inspired by his own experiences.
Renowned anthropologist Dr. Bill Brockton has spent his career surrounded by death at the Body Farm. Now he's being called upon to help solve a baffling puzzle in a remote mountain community. The mummified corpse of a young woman dead for thirty years has been discovered in a cave, the body bizarrely preserved and transformed by the environment's unique chemistry. But Brockton's investigation is threatening to open old wounds among an insular people who won't forget or forgive. And a long-buried secret prematurely exposed could inflame Brockton's own guilt–and the dangerous hostility of bitter enemies determined to see him fail . . . by any means necessary.
With Fascinating Insider Information on the Body Farm!
Similar books in the genre I also recommend:
The rest of the Body Farm series
Natural Causes by James Oswald
My next review: Saving CeeCee Honeycutt.
Cheers!
Share on Tumblr

comments feed

Send to Kindle