Dark secrets and fierce competition: creepy YA thriller set in the New York Ballet Academy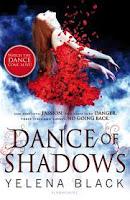 This was a tense read which I greatly enjoyed. The intensity of the ballet academy environment, together with the central mystery of Vanessa's sister's disappearance, simmer together to create a highly charged atmosphere.
The novel follows Vanessa as she starts her professional ballet career in taking up a place at the academy which her sister, Margaret, went missing from a few years earlier. As with all environments where people are living and working closely together, it all feels very high-stakes and intense as allegiances and enmities are forged rapidly. Vanessa seems initially to want to keep her plan to investigate Margaret's disappearance to herself, but it was recent enough that some of the older students mention her, and she fairly quickly finds herself with a core group of friends whom she can share suspicions with, especially when one of their classmates disappears also.
The plot as whole is quite slow-burn, with plenty of tension and red herrings. We're encouraged to suspect various characters, some of whom turn out to be quite innocent and innocuous while others are not. Hints of the supernatural and of magical transformation through dance abound, as do suggestions that the missing girls (yes, Margaret is far from the only one) simply dropped out due to the pressure of high expectations.
I wasn't always completely convinced by some of the relationships, but I think the intensity of the ballet dancers' surroundings could be seen as responsible for some of that. These are young, intense people away from home and I can accept that they would form bonds and alliances rapidly.
Overall, I found this to be an absorbing read. I wouldn't recommend it to strict realism-only readers, but most YA fans are likely to enjoy this.
From the back cover:
An elite academy with the darkest of secrets.A dancer with a talent she never wanted.A legacy she can't escape.
Vanessa Adler is dancing in her sister's footsteps as a student at the exclusive New York Ballet Academy. Margaret Adler disappeared three years ago and Vanessa is searching for answers.
Dance is in Vanessa's blood, in her soul - and perhaps it holds the key to the mystery. But the academy is a sinister place, plagued by fierce rivalry and scandal. Finding her sister is going to be dangerous, and the sexy, charismatic Zeppelin Gray may lead her far beyond the truth she was looking for ...
*******************
Published 14 February by Bloomsbury
Find more information on
Goodreads
My thanks to the publisher for sending a review copy