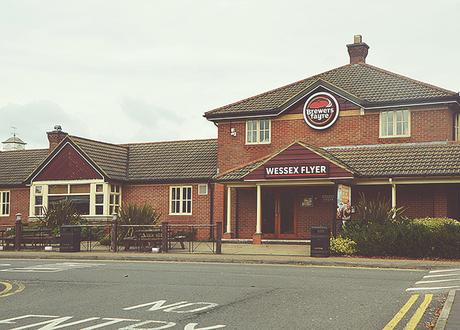 We were recently invited over to our local Brewers Fayre to test out the menu and see what we thought! Neither of us had been before so were interested to see what it was all about! We had a browse on the website to have a nosy and to check out the menu, then read up on some other reviews before heading off! 
We arrived a little earlier than planned but staff were friendly and accommodating, showing us to our seat and quickly fetching a highchair for Abbie! Charlotte, our waitress was lovely and checked on us throughout our meal to make sure everything was ok!
The menu is your typical pub grub sort of food (my personal favourite), mixed grills, steaks, pies, salads and burgers! There is something for everyone on the menu and a special kids menu too featuring Denice the Menace and Gnasher! I do think this menu could have more available for littler ones, Abbie is a big fan of pasta so a nice penne dish would've been perfect!
Having read reviews previously we knew we had to head up to the bar to order our food, rather than having someone come to us, but I think it would be nice to be told of this in the restaurant, just for those who didn't know. 
Ordering was quick and easy, it then arrived super fast which was amazing, anyone with little ones know how much of a relief it is when this happens! Although Abbie was in a pretty good mood anyway, it meant she wasn't getting restless, as an anxious person it was reassuring and made me relax a bit more!
I decided to go for the New Yorker Burger described as "A beef burger and streaky bacon, topped with melted cheese and our burger sauce. Served with crunchy coleslaw and chips".  I was pleasantly surprised with my meal, it was super tasty, the burger itself was perfectly cooked, the chips were chunky and homemade like and the coleslaw was creamy and tasted fresh!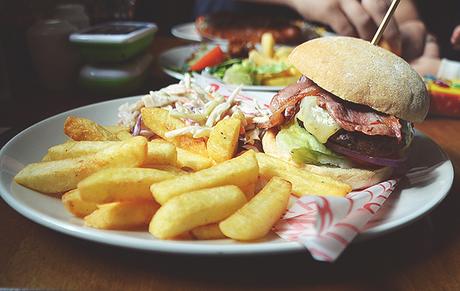 Anyone who knows me knows my love of Oreo's, so I couldn't pass up the opportunity to try the Oreo Cookie Pie; Chocolate pastry tart filled with a layer of rich caramel, topped with toffee mousse and finished with butterscotch and Oreo cookies, then served with squirty cream! Just reading that makes my mouth water, it was exactly what it says, scrumptious, indulgent and the perfect finish to a lovely meal!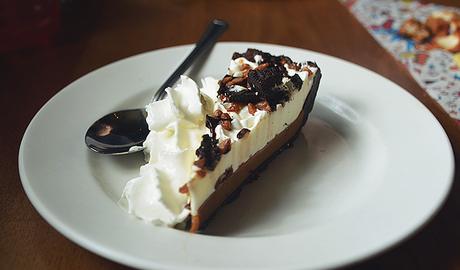 Ben went for the Chilli Cheese Dog ; "Spicy chilli with melted cheese, jalapeños and a drizzle of tomato sauce, this is definitely a hot dog. Served with chips and crunchy coleslaw".  It looked so delicious, just like the picture online and was actually a lot bigger than we expected! Not a problem for Ben, the more the merrier ha ha.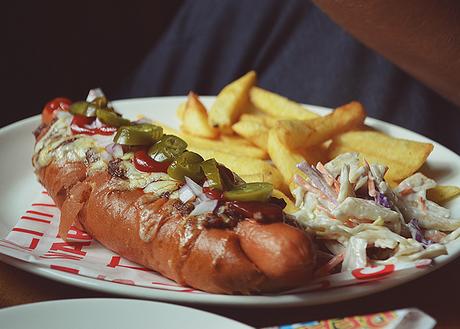 For dessert Ben chose the Treacle Tart, which was made with a delicious shortcrust pastry, with golden treacle and served with vanilla flavor ice cream! The smell was incredible when it arrived and it was quickly devoured before I could even try a piece :(. Ben said it was probably his favorite dessert from a restaurant though!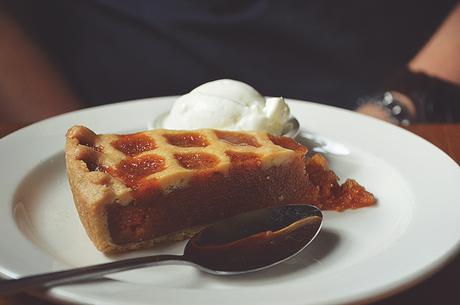 For Abbie I decided to choose the Poppin' Chicken, which came with chips and salad, she's not a very fussy eater so I probably could've picked anything for her! As soon as it arrived she stuck straight into it, and surprised us by eating most of it! For dessert I knew she would love the fruit salad, a bowl full of orange, apple and grapes, she wolfed it down in no time at all!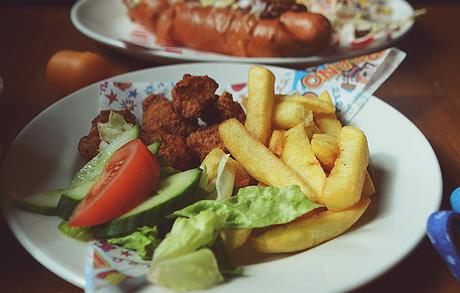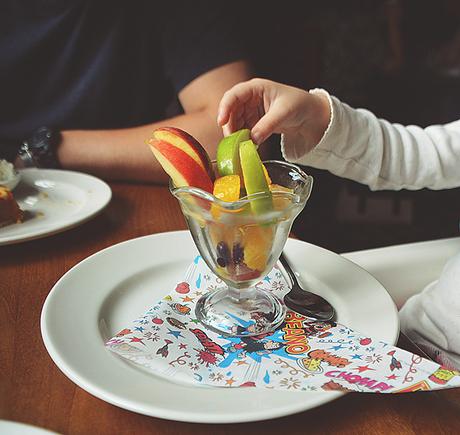 What impressed me the most was how the food looked just as it does online, so well presented and portion sizes were generous too! I honestly don't have any negatives to say about our experience, everyone was friendly and attentive, the place was spotlessly clean, the food was lovely and we left happy customers :)
Check out the website for the latest meal deals and offers too, including;  During weekdays, between 12-6.30, you can take advantage of 2 main meals for only £10! For more information on this deal, click here and follow on twitter too!
Overall we would definitely recommend the Brewers Fayre to friends and family, and can't wait to head back to try out some of the other food options too!
x