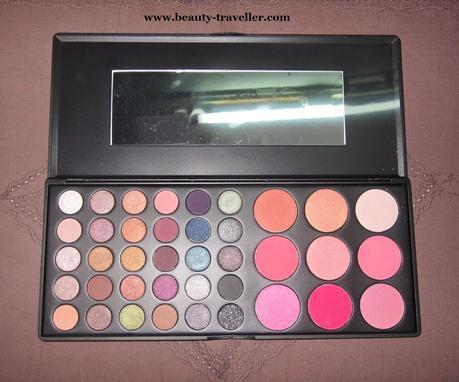 The name of this palette is so apt. Its indeed a special occasion palette.............I had to buy the BH cosmetics Special Occasion Palette as a future replacement of my favorite Jenni Rivera palette, which they have discontinued and its also an unfortunate early demise of Jenni. The eyeshadows in this palette are amazingly pigmented and the blushes are so ethereal, making this a go-to palette for makeup jobs and when I need everything together and yet not carry a lot of products.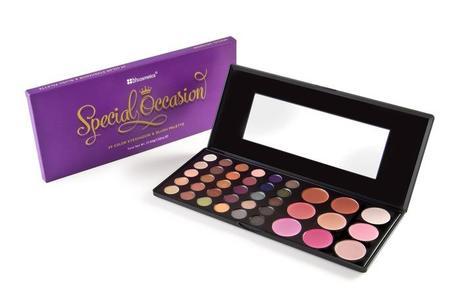 The colors in the special occasion palette are ever so alluring and can be used to create a subtle neutral day look and then add scintillating touches to make it a smokey evening glamour. So much and more to say about this amazing palette.............
Lets have a look...........
BH cosmetics says........
The BH Special Occasion Palette combines the most elegant shades for eyes and cheeks that make primping for your big event easy and fun. Coveted by makeup artist, these eyeshadows and blushes have been carefully selected to be complimentary and flattering for any occasion.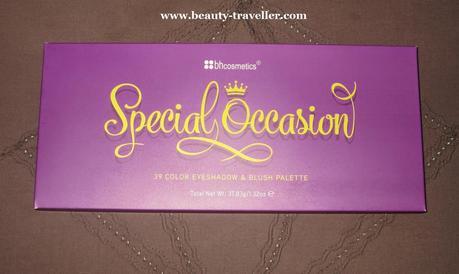 PACKAGING
A purple soft cardboard box with yellow print, holds a sturdy black case with a built in mirror on one side of the clam shell design and 30 eyeshadows and 9 blushes, contours and highlighters - all in one palette. The palette is very sturdy and extremely travel friendly. The hinges are strong enough, the mirror is of good quality and this palette has the sustaining power when it comes to coupling it with other products that bump and crash at each other.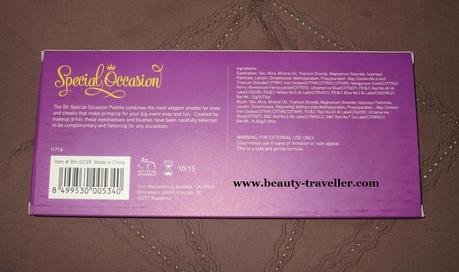 FORMULA and INGREDIENTS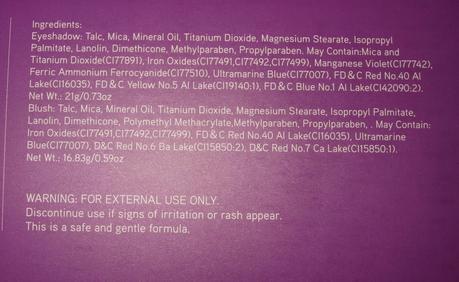 The eyeshadows come in various textures - mattes, soft shimmers and frost. The mattes are very soft and not chalky, blend well over a primer (without primer, its a difficult task any which ways) and help create those lovely transition looks. The soft shimmers add a subtle radiance without being too over powering. The frosty shades are well pigmented, go on beautifully and are a high impact when applied with various methods of eyeshadow application.
The blushes, contours and highlights come in matte and sheer shimmer formulas. The mattes are very well pigmented, a bit difficult to apply and blend (should not be a problem to professionals and any one who hunts for extremely pigmented products) but overall gives a good result. The shimmer formulas are really amazing. They go on finely to illuminate the face and do not look overtly frosted depending on the way of application.
The only botheration for me is the presence of 'Parabens' and the new palettes introduced by BH cosmetics would be PARABEN-free so thats a great news.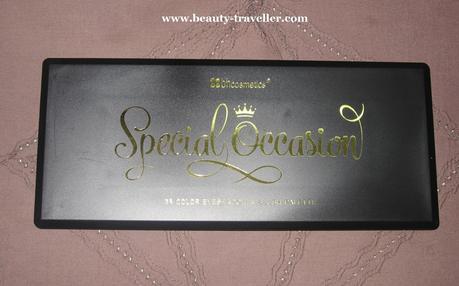 COLORS
There are 30 eyeshadows and 9 blushes, contours and highlighters.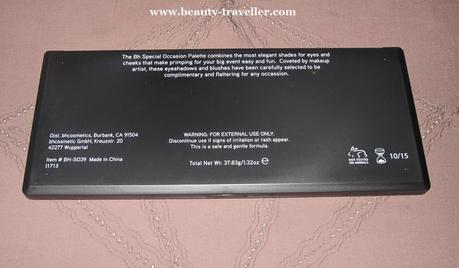 SPECIAL OCCASION PALETTE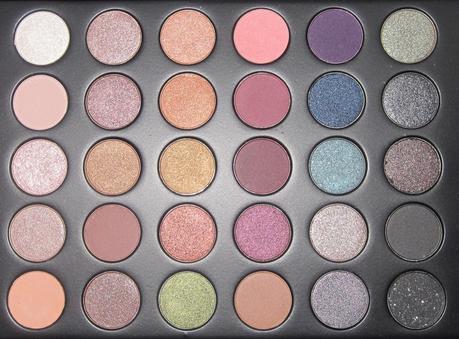 EYESHADOWS
(Each Column)1st column
Frosty pearly white with subtle blue undertones
Matte creamy pink
Shimmery light pink-peacj
Shimmery beige
Matte light peach
2nd column
Shimmery medium brown
Shimmery medium brown with a purple undertone
Shimmery burnished gold
Matte cool medium brown
Shimmery taupe brown
3rd column
Shimmery peach
Shimmery tangerine
Shimmery antique gold
Shimmery brass
Shimmery olive-mehendi green
4th column
Matte coral pink
Matte aubergine purple
Matte deep purple
Shimmery purple with magenta undertones
Soft matte cork brown
5th column
Matte blue toned purple
Midnight shimmery blue
Shimmery sparkly teal
Frosty silvery taupe
Frosty asphalt grey
6th column
Shimmery duochrome jungle green
Shimmery gunmetal with silver sparkles
Shimmery intense purple toned brown (Vandyke Brown)
Matte black
Matte Intense black with silver flecks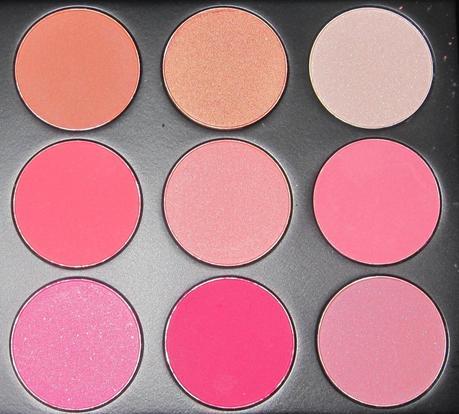 BLUSHES, CONTOURS and HIGHLIGHTERS
(Each column)
1st Column
Rusted peach - matte
Bright coral - matte
Bright shimmery candy floss pink
Shimmery golden peach
Shimmery soft rose
Matte bright reddish pink
Soft shimmery moonlit pearl
Matte pink coral
Soft shimmery rosy pink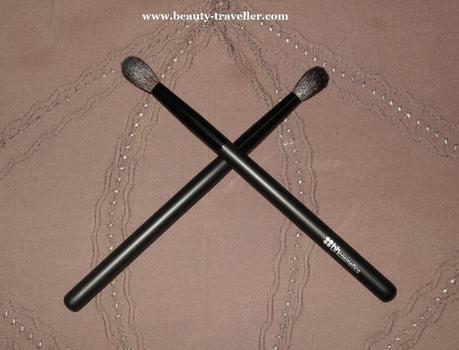 I also got these 2 amazing blending brushes which are on of the best blending brushes I have ever used. They are simply perfect. I use them for applying a wash of eyeshadow, smoothing out harsh lines of deep mattes and also adding accents to the eyes. 
Special Occasion Palette is a wonderful palette to create an array of looks without having too much of time to waste on choosing colors. All colors are beautifully pigmented and when applied over a primer and a NYX Jumbo white pencil, look true to their real colors. The pay off is good, the hold is good and overall the colors look sophisticated unlike their tacky competitors in the same price range. Do check the BH cosmetics website as this palette tends to be on offer at times.
Hope you liked this quick review. Do let me know in the comments.
Till then,
Ciao




Please do not copy any pictures or content of Beauty Traveller without prior permission. Thanks for reading my blog. I don't give 100% on the authenticity of the content here and it is subject to change without prior notice. Please read the disclaimer for any questions.

Thanks a lot for reading my blog. Do subscribe, follow and support. Thanks.