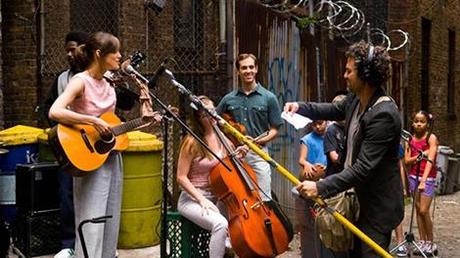 It has always been a constant battle for artists whether they want to compromise themselves for the sake of selling their art. In one hand, they have their idealism of what they are as an artist. On the other hand, they need money to survive. Added with people in the industry have the idea of what they should be in order to sell more. If first is for selling records, the next shouldn't be losing themselves, because it's much worst.
One lousy night, heartbroken Gretta (Keira Knightley) performed in a small pub, forced to sing her raw song because her best friend introduced her without her wanting to. Gretta should thanked her friend because her performance was watched by a record label owner, Dan (Mark Ruffalo). The problem was Dan isn't in a good shape. After being a drunk and haven't found any prospective new artist in years, he's fired by his own record company, who is now more interested to sell than art. He managed to make Gretta signed to him, but his partner won't sign her until she gives a demo. Instead of paying more money to rent studio, Dan have a brilliant idea to record in outdoors, with its own challenge. The idea interests Gretta. They record songs in streets, alley, park and rooftops. They utilizing the atmosphere and welcome the risk of the disturbance of the environment or annoyed people, or being arrested.
…you're only as strong as your next move.
Behind their music, Gretta deals with heartbroken since her long-term boyfriend, Dave Kohl (Adam Levine) transformed to a hot new rock star and have an affair with one of the staff in his record team. While Gretta has invested time and energy to the relationship, and to Dave's career. What makes it worst, Dave compromise his look and music to sell his music more, one of the influence of being signed in a record company, which Gretta despise. Gretta sees Dan to be a mess, but as it turns out Dan also dealing with the pain from the past.
This movie isn't another Music & Lyrics (2007), as I predicted and worried to be. It's not as cliche as you might think. Keira was known to take a lead role in period dramas, but currently picking more casual and modern role, like a free-spirited girl in Seeking a Friend for The End of The World. Previously, I have my dislikes on Keira Knightley, but she's actually pretty solid and fit as Gretta. Her singing sounds like Sara Bareilles-ish and the smart lyrics suits her. Not to mention, her idealism and uncompromising for anything she isn't. She's quite mature as a woman and artist, which makes her more golden. Another big plus is, I love her casual outfits in the movie, which probably comes from her perfect posture.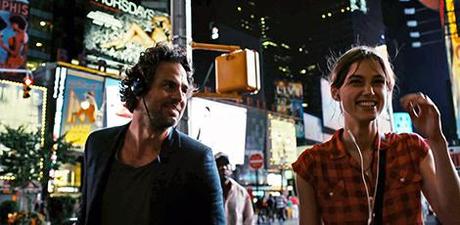 Gretta wouldn't rise without someone who believes in her. The guy is Dan, who she thinks like a 'homeless man', actually is a genius man when it comes to music. The first scenes makes us sympathize (or disgusted) with him waking up late and running from bar because he can't pay the beers (in front of his own daughter). His music journalist wife, which lives separately with her daughter, dislikes him, too. But he and Gretta are connected through music. It's a lovely scene where they listened to Gretta's playlist on her phone through the city.
Gretta's boyfriend played by the hunky Adam Levine, you've known as the lead of Maroon 5. Ironically, as Dave compromised his music seem in sync on how Maroon 5 to me stand between rock and pop, and more of a commercial tone. But Levine sings Gretta's songs blended well with his authentic vocals and color. Levine actually gives a good performance from a geeky boyfriend to a rising new star. I'm not that surprised, he gave good act on his own music videos.
Above all, given that the movie was directed by Once director, John Carney, the musical movie has great easy-listening songs with personal touch. In a way, its casuality and sincerity reminded me of Once, without me knowing this movie was made by the same filmmaker. It compliments Gretta as a gifted songwriter. The content, the drama, is way formulaic but more complete than Once. But I am glad that it doesn't take a cliche path to Hollywood usual happy-endings.
I have no hesitation on Mark Ruffalo being a talented music producer, a drunk one. What's great in the movie is his relationship with her teenage daughter, who secretly craved his attention. I actually thought that he's going to have more than one meltdown in the movie, but he keeps on trying and passionate, which is great for Gretta.
The great message from this movie is, when you are sure with your dream, you shouldn't compromise with people who set their mind with money, or people who wants you to be someone else. Like many famous stars previously, they become big because they sounded like no one before them. And hard work and team, of course. Having faith with yourself always pays off. Having good relations in the past also helps your career, like Dan with Cee Lo Green. Also, we're living in an era of social media. So, when the big company won't signed you, you can always go online.
Watch this movie if you enjoy the soundtrack of Once, or looking for light-hearted moving movie.
Final Score :