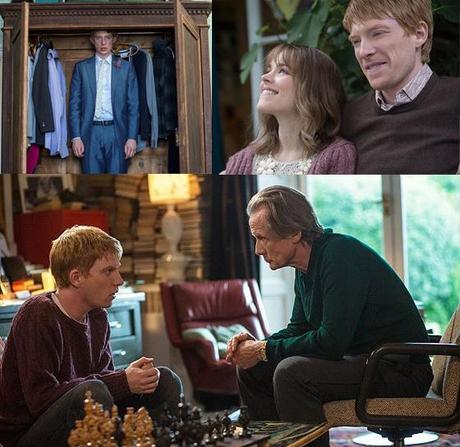 "All the time traveling in the world can't make someone love you."
In a glance, About Time (2013) is like another Time-Traveler's Wife story. Not only because of the similar theme of the story, but also because you see Rachel McAdams starred in it too as the leading actress, only with different leading man. I couldn't help but felt cynical when I read the synopsis of About Time, like some people who do that when they read every synopsis about romance drama, afraid that it's going to be lame or selling too much fantasy. But actually I left the cinema feeling good. About Time proved exceeded my expectation. I even loved it more than Time-Traveler's Wife.
Tim (Domhnall Gleeson) is already 21 when his father (Bill Nighy) told him that the man in their family have the ability to time-travel to the past. Tim didn't believe it at first, but then he tried it and succeed. His father tells him that he must use the ability to chase his dreams and Tim truthfully tell that he wants to have a girlfriend. Then, he meet his first love, Charlotte, his sister's friend, who comes over for the summer. He tries to approach her, but the girl in her own way tell him that she's not interested to him. Tim learns that even with his ability doesn't mean that he can make someone fancy him. Then, Tim move to London to find a girl and decent work. He lives there with his father's friend, James, an idealistic and arrogant playwright. To save James' career, Tim is willing to use his ability but then missed the chance to see his possible true love, Mary (Rachel McAdams). Tim then try another way to meet her, though isn't easy. His ability gives him the chance to do everything right, but he learns that he can't make live perfect.
No wonder About Time have the recipe to be a high-quality simple drama. It was directed and written by Richard Curtis, the man who have written numerous famous screenplays (The Bridget Jones Diary) and directed it (Love Actually, Notting Hill). This movie have a heart-warming vibe from the start, from Tim's lovely parents house near the hill, where he met his first love and to his own house with Mary. His parents house actually have a great scenery and relaxing atmosphere. His parents themselves quite charming and liberal. Even his wacky younger sister is quite open and kind.
If you think About Time is all about romance, it's not. Yes, Tim use his ability to find the girl of his dreams, but it's not just about that. Even though Tim and his father has the ability to time-travel to the past, they are pretty wise to do it just for making situations better. Maybe Tim used it to erase awkward moments or bad words come from his mouth, and to repeat his first intercourse with Mary, but nothing for more selfish or bad reasons.
Beside the lead themselves, I was very impressed with Bill Nighy as Tim's father; wise and full of character. His calm nature indicates lots of knowledge and wisdom, and even in a crisis he still keep on having a positive mind. Domhnall Gleeson surely fit Tim's kind and responsible personality. As for McAdams, nothing's quite new, she was still as adorable as ever as the leading lady. After Mean Girls and Sherlock Holmes, you'd think she'll take different roles. She's more impressive in The Vow (2012). I couldn't help but wishing Zooey Deschanel did accept this role (she couldn't because of schedule problems), so there's more element of surprise.
It's not valentine yet, but you can count on this movie to have a decent time with your loved ones. It's not too lovey dovey and it's nothing cliche. Also loved catchy the soundtracks. This movie used songs to indicate the time, like in early 2000s there's t.A.t.U and Sugababes playing in the party. More thoroughly, About Time is about appreciating moments and to truly aware that our little actions can have an impact to our future. If you are lucky enough, no need to time-travel because you already feel your life is perfect. Though it's not as original as Bridget Jones Diary, I can see myself watching this movie again, and perhaps giving some close people the DVD.
PS : If you seriously want to check this movie, skip the trailer because I thought it showed too many spoilers
Movie Score :