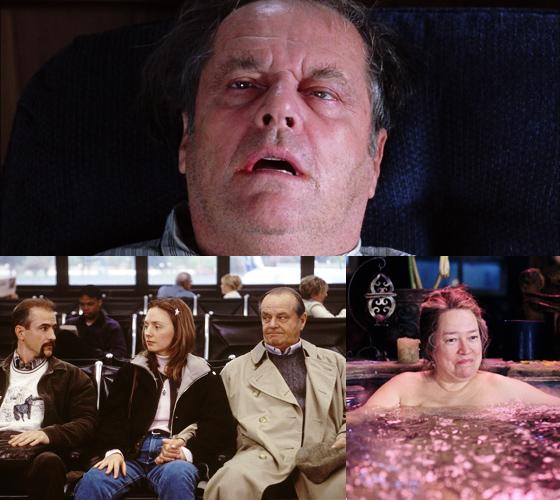 "… I suppose the most you can hope for is to make some kind of difference, but what kind of difference have I made? What in the world is better because of me?"
In a glance, it seemed that Warren's life is complete, with his job and his family, and a house. But, you have to think, what's the use of having a white picket fence house and a decent job if you aren't happy? Watching About Schmidt, was motivated to complete watching Alexander Payne's films. I admit I am not too interested with the plot story or the poster, but Payne usually gives something to think about. And yes, this movie did.
After feeling useless because of his retirement, Warren Schmidt (Jack Nicholson) decided to go for a foster program for African children. He sent his money to help the poor kid named Ndugu and as suggested, he tells his personal life to the letter for the kid to read as part of bonding. In the letter, he admits that he don't recognize the woman he called his wife, even though they are married for 40 years. He also share things about Jeannie (Hope Davis), his daughter who is engaged to Randall (Dermot Mulroney), which he thought aren't good enough for her.
As if he don't get enough suffering, Warren's wife, Helen (June Squibb) died over a heart attack. Though Jeannie and Randall stayed for a while after the funeral, Warren is left alone and it seems living next to his daughter isn't a good idea for Jeannie. Feeling like a mess for some time, Warren decided to take a road trip several days before Jeannie's wedding. While keep writing to Ndugu in the road, he learn more about life and himself.
Every now and then there will be movies about successful stories about famous or iconic people. The stories were made, aside for maybe getting prestigious awards, to inspire people. But About Schmidt is the other way around. It pictured the life we don't want to have. I saw Warren and his sad face, and think, 'Please let me to not be him when I'm old.'
While yes, I'm struggling most of the movie to keep watching Warren live. And maybe, Payne wants us to really get the idea of being retired and out of place. It did worked, especially with Jack Nicholson great portrayal of Warren, the sad 67-year-old man who's reaching out to himself. What bummed me too was how people treated him. One of them is his daughter, Jeannie, who shoved him while using his money for her wedding. But even so, why would Jeannie do that to her father and why Warren did not do anything to get some respect?
Another thing about Jeannie though, is her fiancee, Randall. I didn't recognize Dermot Mulroney at all at first, but the hunky man shaped himself to be Randall pretty good. To think that the man constantly taking roles as a charming and good looking 40-year-old man in the TV series like New Girl and Friends. And oddly Randall's family, though outspoken and looked like a mess, but is far more healthy than Schmidt family.
There were not much information for Helen, Warren's wife, nor her feelings for Warren. Their relationship, though lasted that long and looked okay in the surface, wasn't the ideal husband and wife relationship. Warren shared some things he did not like about Helen, though he never said it out loud, only in the letters he wrote for Ndugu. Ironically, Warren never showed his cynical and bad thoughts but instead keeping it safe inside himself, and letters to Ndugu, while keeping well-mannered outside.
There were more conflicts in Warren more as we looked at the guy. Even with his bitter life, I couldn't help but feel awed with the impression I get from the movie. I think, even when we're aged and old, there's still no stopping to self-discover. I guess self-discovery is a thing we always do in our lifetime. The choices we took when we're 20s probably won't fit us in our 40s or 60s, because changing is apparently the only permanent thing in life. About Schmidt is about getting what we sow in the past, a harsh reality about a late self-discovery.
Jack Nicholson Kathy Bates performances were my favorite in the movie. About Schmidt was based on 1996 novel by Louise Begley. Nicholson was nominated for Best Leading Actor in Oscar for his role.
Movie Score :