I'd been keeping a secret from my husband-to-be.. It's not terrible but it's become a little out of hand. I think I've become a little over exuberant (possibly harbouring a slight addiction) to buying vases. I've been envisaging this sort of look for the reception tables: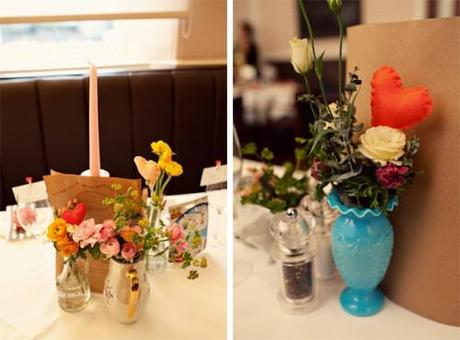 Courtesy of RocknRollBride
At first I started collecting some beautiful cut glass and crystal vases and votives, and some 'shabby chic' painted china teapots, and happily wrapped them up safely and stored them under the stairs. This carried on for around 7 months (under the stairs was literally my own secret antique shop), and finally last Sunday I decided to face my purchases in all their glory, all at once. Now, I have ten tables, so had figured to 'get the effect' I'd need a couple of vases per table along with candle holders, but I was shocked when I lost count at around 100 vases (not to mention a handful of teapots, tea cups and around a dozen cake stands). OK, I'm a shopaholic, but at least I can be choosy when compiling these table decorations!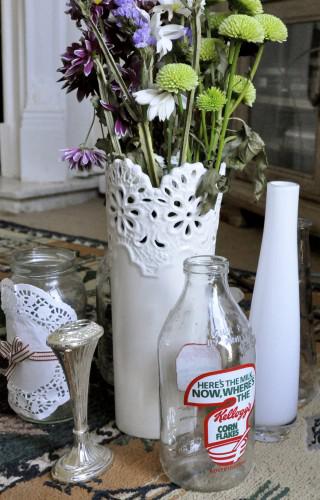 A 'mock up' table (excuse the dying flowers!)
I plan on filling them all with wild garden flowers, to create a real 'homemade/village fete' feel. Last week, Louise and Carli, two of my hens, managed to find these retro gems in a local charity shop: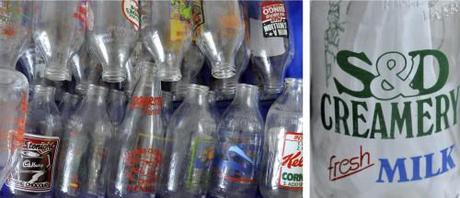 Milk Bottles.. and the S&D bottle
I'd been looking at milk bottles as well as vintage tea tins on places like Etsy and eBay, but didn't really want to pay around £5 each when I wanted so many, I ended up snapping these up at the bargain price of 19p each! There's even an "S & D" bottle, which will definitely be taking pride of place on our table. I also made a few jam jar lanterns/vases to sit alongside the plethora of vessels already mentioned: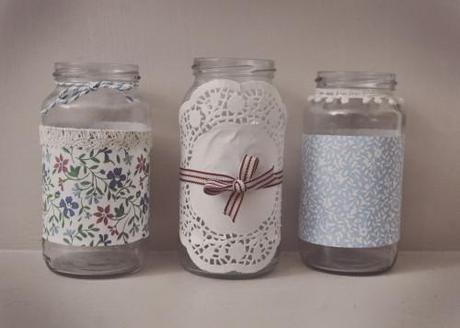 Jam Jars
So there you have it! Over 100 vases is, yes, a bit silly; but since speaking to my mum and actually thinking about it, it may even be necessary. We'll be having welcome drinks in my parents garden, and mum is filling the garden with flowers and candle lanterns, and there will be a 'chill out' area in the garden house at the bottom which will need some decoration, so maybe my investment isn't too extreme after all! I frequented one second hand shop so many times that the ladies there even starting saving me items that they thought 'could help'; and during my last trip (yes, my last, I've finally stopped my vase-buying), they gave me a memento to keep and to 'wish us luck' for the future! Yes, it's not a piece I would have chosen from the shop, and I find the figures a little creepy but the sentiment means the world to me!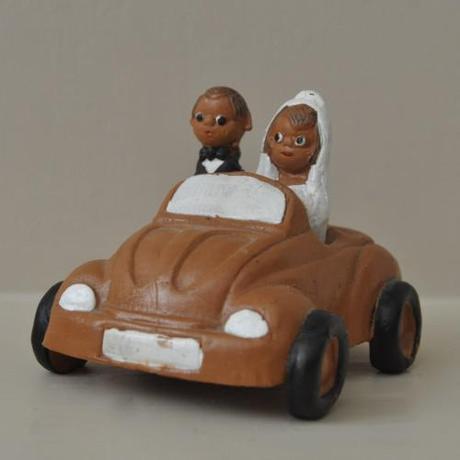 Mr & Mrs
It's been a long way of doing it, but I really feel it's been a labour of love, and I'll be selling what I can on afterwards to hire companies or as job lots (there are 'dibs' on a few of the best milk bottles already), and I'll be keeping a good few knowing that they helped make our wedding day beautiful!
Sally x