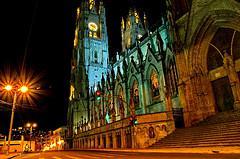 Basilica de Voto Natcional, Quito, Ecuador
Photo by Rinaldo Wurglitsch
I write a lot about moving abroad when you're young, but what about when it's time to retire? It's not just for adventure; it might be a savvy financial move on a tight retirement check and
Ecuador
may be your new home. International Living magazine, for several years running, keeps voting Ecuador the number one retirement country.
In fact, the city of Cuenca, Ecuador, has a thriving American community. Imagine lovely fully-furnished apartments for $300 to $400 a month, utilities included.
You'll need the 9-I Pensioner Visa. The main requirement for the Ecuador 9-I Pensioner visa is demonstrating a stable $800 a month income (PDF from the Ecuadorian Interior Ministry). If you don't have that income, you can deposit five years worth of that income ($48,000) with their central bank or demonstrate that you already have a trust with that amount in it.
You'll find Ecuadorian Expat boards very busy
 and not just filled with retirees.
View Larger Map
The weather's great, the country is stable, the cost of living is cheap, and they welcome immigrants. You won't have a hard time meeting English speakers (largely other immigrants), but speaking Spanish is a definite plus. If you're near retirement age, start taking a look down south.
Here's a description of
how to retire to Cotacachi, Ecuador, on $1,000 a month
.
Update
: this is my second entry on this topic. I keep getting bombarded with information about this that I didn't realize it.