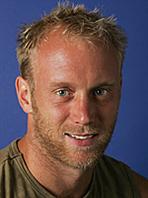 Stefan 'Cooley' Koubek
Koubek finally retires at the age of 34 with a career to be proud of. A entertaining lefty, he had some incredible comebacks and represented Austria well especially under his idol Thomas Muster. He had some trouble with doping, but only received a short suspension and is most likely to come up in Google as choking Daniel Koellerer during a match in Austria, which he will want to forget most likely.
Reason to retire: Age
Career titles: 3
Win/Loss Record: 215/253
Career High Ranking: 20 (2000)
Finest moment: Winner of his first ATP title as a qualifier in Atlanta 1999
Famous For: Coming back from a 0–6 1–6 1–4 15-40 deficit to eventually defeat Cyril Saulnier, 0–6 1–6 7–6(6) 6–4 8–6 at the Aussie Open 2002 and choking the insane Dani Koellerer during a changeover.
Watch: Play of the Week