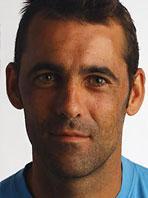 Oscar 'Guindi' Hernandez
Feisty Spaniard Hernandez departs the tour after struggling with illness. A classic battling Spanish clay lover, Oscar punched above his slight weight and put 110% into every point and who will forget he hilarious victory dance against the disgraced Dani Koellerer in a Challenger match. You can find it on Youtube or view it here.
Reason to retire: [From ATP] Hernandez has failed to recover from a herniated disc injury, which required surgery on 24 November 2010. He suffered post-surgery problems and a rare complication that affects just one in 1,000 patients.
Career Singles titles: 0
Career High Singles Ranking: 48 (2007)
Win/Loss Record: 59/99
Finest moment: Won 10 Challenger level titles in his career, with final wins of note, against Nicolas Lapentti, Florian Mayer and Mariano Zabaleta
Famous For:  Beating Hewitt in the first round of the 2007 Rome Masters, 3–6, 7–6 (3), 6–1.
Watch: Oscar's forehand drop shot