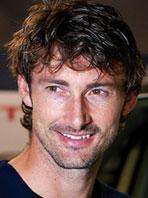 The Mosquito
Ferrero is nick-named by his opponents as 'The Mosquito' for never going away, but after 14 years on tour, the Spanish legend calls it quits.
Ferrero's peak in 2003 was in a pre-Rafa/Roger era but by no means undermines his accomplishments. He won Rome and Monte Carlo (twice) and of course took the French Open crown in 2003 becoming the 21st player to hold the number one spot. All his titles came on clay except 2 (Dubai and Hong Kong) and his forehand did most of the damage.
In retirement, expect to still see JCF involved in the game while co-running the Valencia Open (with David Ferrer) and "Hotel Ferrero", which features 12 luxury suites!
Reason to retire: Age
Career titles: 15
Grand Slams: 1 (French Open 2003)
Masters Titles: 4
Win/Loss Record: 479/262
Career High Ranking: 1 (2003)
Finest moment: Winning the French Open and reaching world number 1 in 2003.
Famous For: Ruling the clay courts in 2003.

Watch: JCF Uncovered
Watch: Ferrero stun Agassi 2003 US Open