Dainty, playful and bright, Nina Ricci's resort collection understands exactly what vacations are all about: escaping the winter doldrums and bad weather. The jewelry is no exception to the attire's rule. It is a bit more boldly luxurious in appearance, perhaps, but everyone deserves some flash and bang every now and then. Ultimately, these pieces brighten up any ensemble, and they effortlessly elevate without loosing a sense of carefree spirit that a holiday calls for intrinsically.
The Bangle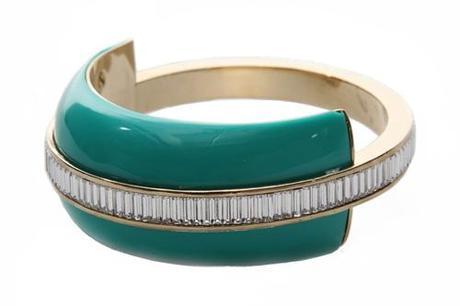 Layered, with a baguette diamond encrusted channel on the top and flat jade chunk as the foundation, this beautiful bangle bracelet is visually appealing without resorting to gimmick. It's chunky but not heavy, the jade portion only covers half the circlet, to keep from weighing it down. The diamonds are classy and lined up side by side for a flash of sparkle that's not overly dazzling. It works well for day or night, with bright ensembles or pared down ones. Above all, it complements the sea.
Two-Finger Rings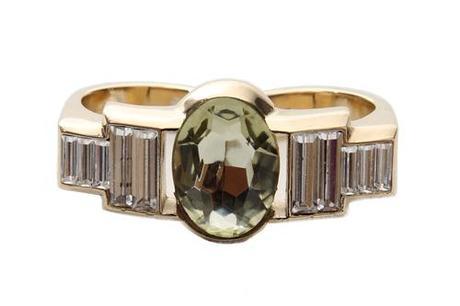 There is more than one style of this edgy yet feminine bauble, and it's made contemporary and ladylike ever more so with a large central stone. You'll love the diamond accented chartreuse oval gem with flashing facets. It's set in yellow gold, so if you do punch someone with it hopefully the softness of the precious metal will dull the impact somewhat.
Flirty Flower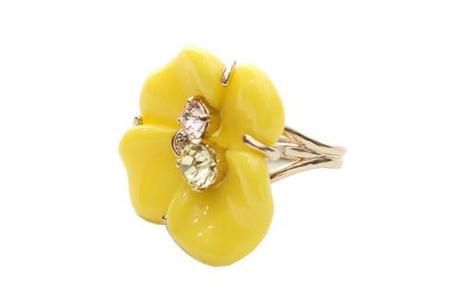 This is by far the sweetest, and most bohemian, of the Nina Ricci jewelry collection. The yellow flower sports a collection of three gemstones in the center of the carefully detailed sunny petals. Pale pink, chartreuse and whisper gray in color, they softly blink from inside the bud. It's the perfect summer accent for a cotton dress or swimsuit. Pair it with an oversized straw hat or messy braids for a youthful look.
Ditching the dreary days of winter is as easy as a summer breeze with the Nina Ricci collection. From top to bottom, it boasts cheery options that lift the spirit without overwhelming the eyes.