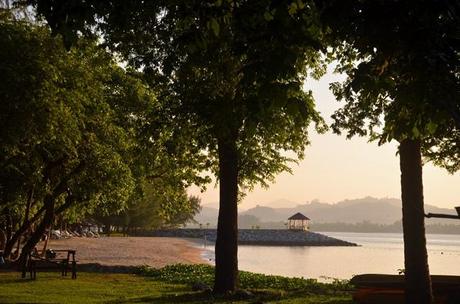 We like to take the road less traveled, and chose anchoring in a quiet bay over tying up in a marina, but it was a fine change of pace to soak up the resort style benefits of the Rebak Resort & Marina while my parents were visiting.
It reminded me that cruising comes in all kinds of flavors, and our take is just one way to go. Almost everyone we met at Rebak was residential: either berthed semi-permanently, or flying in and out between their boat, and jobs elsewhere. Either way, it's a good life and enjoying the good life with lots of benefits (room/berth service!). Malaysia makes it easy, though, to cruise from marina to marina- they are spread out at day-trip intervals along the peninsula. Mexico wasn't terribly different, though, and the similar pockets exist in other regions around the world.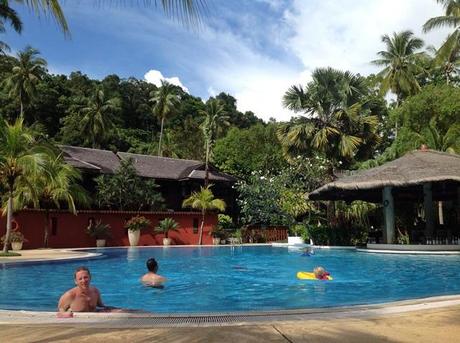 We all have different ideas of the resort lush life. The kids loved the pool, where we spent many afternoons once the sun came out. It was a cooker in the middle of the day, but when the sun sinks just enough to put most of the pool in shadow, it was heavenly. Not to mention, hello, swim up bar! Shockingly, I never got around to patronizing it. I love swim up bars.
There were some nice little hikes: one of my favorite things to do. One stunning walk runs up and along the ridge behind the marina's hardstand. Most of it looks like this, and is utterly peaceful: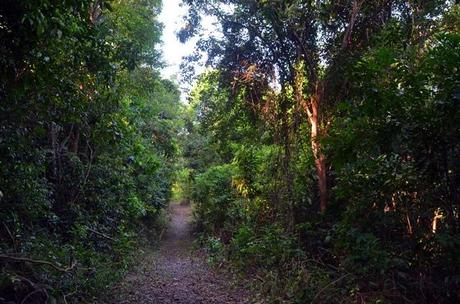 It had been installed years ago with granite gravel, but was horribly overgrown until a dedicated group from the marina took to walking it with their machetes. Now the resort charges about $30/person for guests to have a naturalist lead hike, but you can just take yourself anytime. I'm pretty sure they don't show the guests the ropes course down to the beach, either.
Early morning walks were always full of wildlife. I could see the flash of monkeys jumping across the path ahead of me, or a hornbill up in a tree.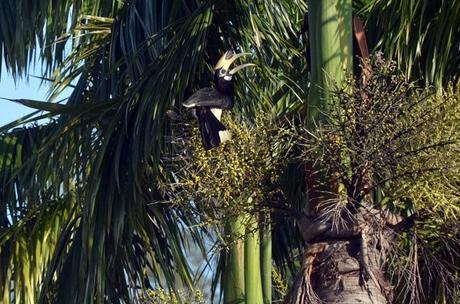 thank you Mr (Ms?) Hornbill for posing for me
There were activities we could easily join, from movie nights, to tennis, to the kids favorite: archery. Jamie hadn't picked up a bow for 30 years but nailed bullseyes with his first five arrows. Very fun, and definitely not as easy as it looks.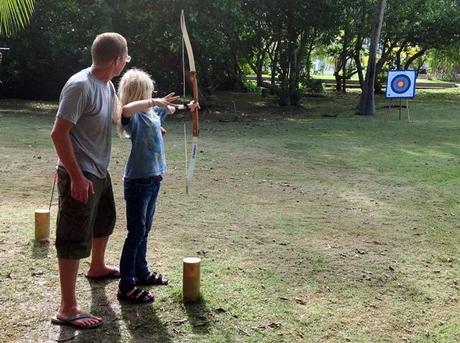 The girls indulged in some bubble baths, too. No bathtubs on a boat! Plenty of fun hanging out with grandparents in their air conditioned suite, though.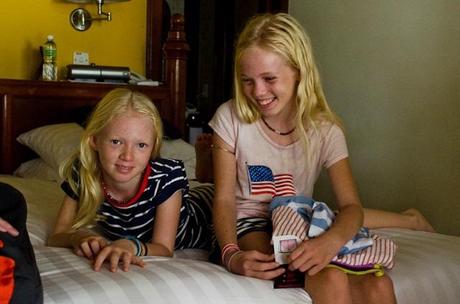 I couldn't talk the rest of the crew into coming on any hikes with me. Possibly this is the reason. What, you have to walk? We have these cart things and people to drive us around!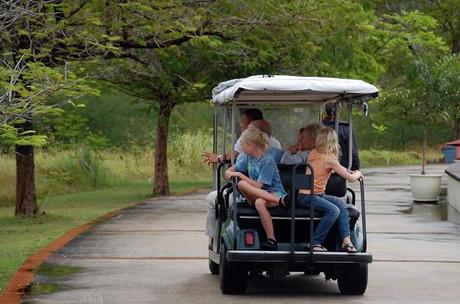 This is probably a little pathetic, access to REAL laundry machines made me very happy. Of course, these are "marina use only." No hot water (there's never hot water) but who needs it?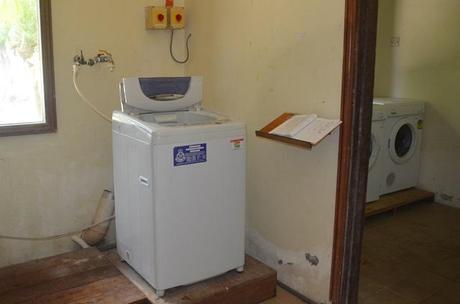 Note the honor system book to record machine usage
Then there was the food. Oh my goodness. I need a serious Rebak Reduction plan. Most meals with my parents were off the boat, and the food at the resort was incredible. They treated us to many meals up at the resort... we brought them (clandestinely) to the "marina guests only" restaurant as well. A fraction of the price for the same deliciousness.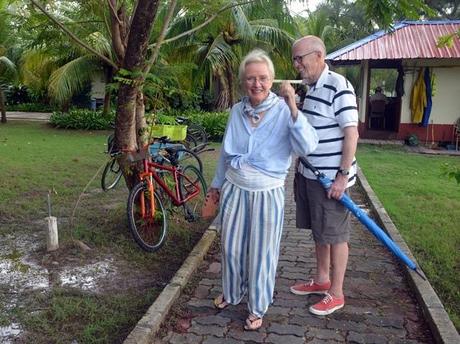 dressing down to sneak into the yachtie restaurant
We all had favorites- I loved the Indian dishes. Siobhan loved the breakfast buffet, and basically invited herself to it as often as she could.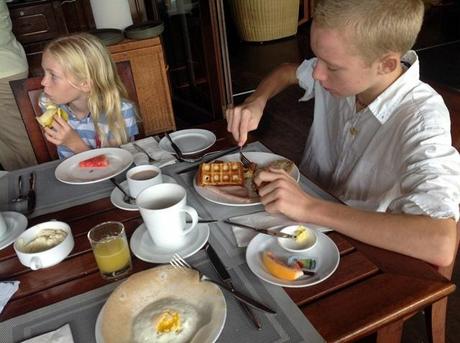 breakfast buffet catered to Indian, Chinese, Malay and Western tastes. Wow.
I guess we got used to this sweet bit of resort living.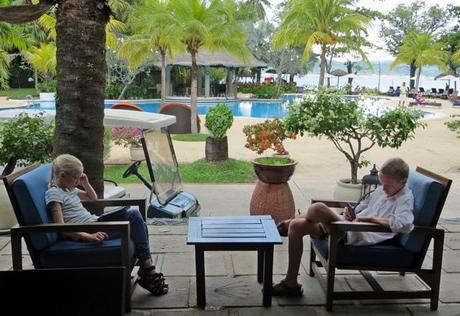 Back on the hook again (yeah, that's one of those phrases that's hard to use outside of boating circles), sure, we miss the easy access to things: we are lugging water in jerry cans. Doing laundry in a bucket. Watching our voltage to make sure the battery bank is OK.
I guess we miss not having to worry about those things while  we were resorting, but they're really just part and parcel of everyday cruising life. Mostly, we miss the family we had around.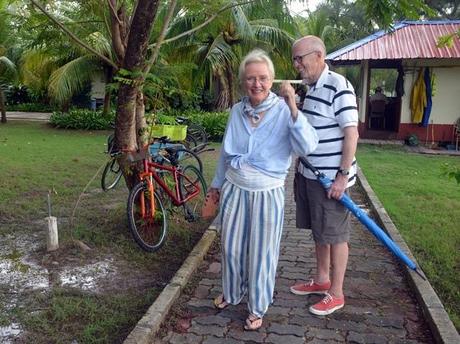 dressing down for dinner at the yachtie restaurant
Resort life was nice, but enabling time for three generations to be together is what it was really about.