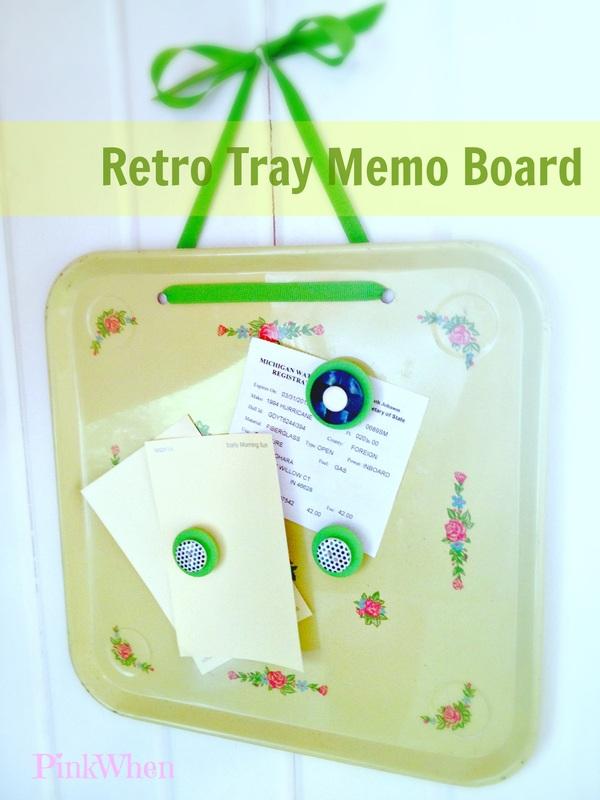 Repurposed Retro Tray Memo Board
Do you love turning someone else's trash into your very own treasure? If so, take a look at this easy and inexpensive Repurposed Retro Tray Memo Board and see how easy it is to give an old item a new and exciting spin. This memo board is not only sweet to look at, but it is practical as well since it is the perfect place to store your favorite recipes, pictures, receipts, coupons, and anything else you can think of. If this simple DIY looks like something you would like to try, take a look below at how easy it is to whip up one of your very own.
Most of the supplies needed for this Repurposed Retro Tray Memo Board can be found at your local thrift store, craft store, garage sale, or even in your own garage or attic. Be creative and see what you can dig up, then give this simple project a try!
Supplies Needed
1 Metal serving tray.
3-5 Colorful buttons
Ribbon of your choice
3-5 Small magnets (you will need the same number of magnets as you have buttons)
Hot glue sticks and glue gun
Power drill (optional)
Directions:
1. To begin, you will want to attach the yarn to your tray so you have a way to hang it. You can do this one of two ways. Either use your hot glue and attach the ribbon to the back of the tray, or use a drill to make two holes to run the ribbon through. This is the method used in the example photo.
2. Once your ribbon is attached, set your tray aside. You now want to work on your magnets you will use for attaching your recipes, photos, etc.
3. Apply a small dab of hot glue on the back of each button. Press a magnet onto the glue and hold into place pressing firmly. You can stack buttons if you wish as shown as well in order to create some various color combos and interest.
4. Once dry, your magnets are ready to go on your board! Just place them where you wish.
5. Now all you need is the items you wish to display on your board! You can hang just about anything!
Your memo board is now ready to be displayed. Just hang it from a simple tack or Command Hook. These look great in your kitchen to display recipes, in your office to keep bills safe, or in children's rooms as a sweet way of displaying pictures. Be creative, as there are many ways this piece can come in handy in your own home!
Turn some trash into treasure when you give this easy repurposing project a try! Just be prepared, because as soon as your friends see it they are sure to ask you to make them one!