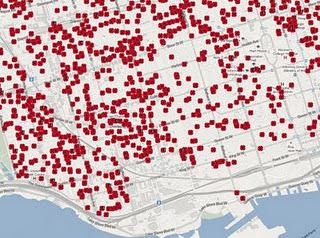 Patrick Cain painstakingly mapped the homes listed as the next of kin addresses for 3,224 Toronto residents killed in World War II and marked each with a poppy. Please check out this poignant interactive tribute to Toronto's fallen by clicking here.
One at a time, the poppies are meaningful enough, a death on every corner - en masse they create a terrible bloody blot. 
http://www.openfile.ca/remembrance_day


A repost from a year ago today.