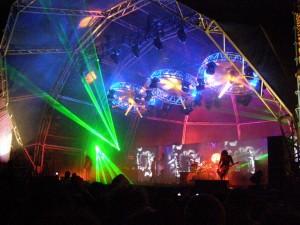 I was raised conservatively enough to not remember most of the music of the 90's. Nirvana, Smashing Pumpkins, Radiohead, and I became acquainted long after the norm, in dorm rooms and on college radio. Needless-to-say I didn't see many shows, especially in high school, so it wasn't until I was twenty-two years old, that I experienced my first jaw-dropping, bonified stadium rock laser show.
I stood in a trepid crowd of thousands at the River's Edge on an abnormally hot June day in St. Paul, Minnesota. Passing a pocket flask and lighting the first joint of our night, my best friend and I were hunkered down in a sweating sea of weirdos, preparing for LA-bred art rockers Tool to absolutely eviscerate us. Muggy air twisted into vapor struck by laser light as the band opened with "Hooker with a Penis," and a handful of sunburnt moshers began twitching and pushing in standard fashion. Most people rocked their heads indifferently and guarded their beers. Six minutes later, the last rays of day scattered across the multitude and neon lasers leaked out from behind Maynard at center stage. While the opening hums of "Stinkfist" shook my eardrums, a shift took place in the crowd.
Cue the bizarro video puppetry of Adam Jones. Enter madness, enter even more entertainment laser blasts. Elbows flew as everymen and clean-shaven dads charged forward. For the next hour and a half we were no longer viewers – we were the enraptured congregation of the Church of Maynard. Following with a chorus of glossolalian cries, we shouted "To breathe, to feel, to know I'm alive," and knew we meant it.